About us
Associate artists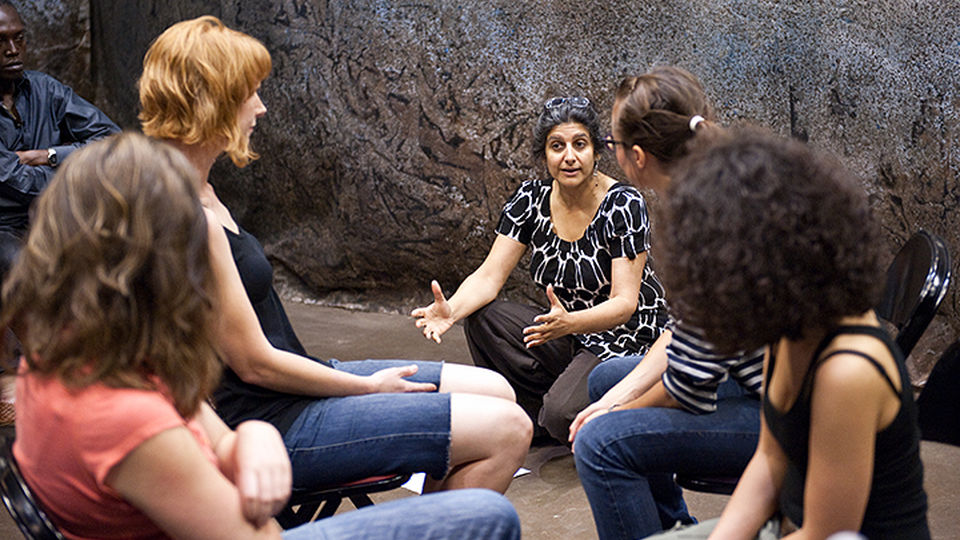 Spare Tyre's Associates are artists with whom we have a mutual respect and understanding. Our Associates work on our projects, give us advice and act as a soundboard for our ideas. They share our practice beyond Spare Tyre. We currently have twelve Associates.
Tayo Akinbode
Tayo has composed and been musical director for numerous companies around the country. Recent works include work for The Royal Exchange Theatre, Theatre New York, Sydney Opera House, National Theatre, The Generating Company/OCT East in Shenzhen, The Globe Theatre, and Spirit of the Nation UAE 40th Birthday celebrations in Abu Dhabi. He was also composer and MD for the RSC's Julius Caesar.
Maria Da Luz Ghoumrassi
She has worked with various companies including the original cast of The Lion King. She has choreographed for BBC3 The Mighty Boosh and performed her work in venues such as The Place, Greenwich Dance, Rose Bruford College and Camden People's Theatre, produced by Pan Centre for Intercultural Arts. Maria is interested in Intercultural Performance and Education as a way of developing cultural awareness through multidisciplinary arts using techniques from around the world.
Carolene Hinds
Carolene is a choreographer on the theatre circuit she has worked on shows such as 'Taming of the Shrew', Nottingham Playhouse, 'Carmen Jones' at The Old Vic and 'Ain't Misbehavin' at The Crucible in Sheffield. As founder member of Association of the Dance of African Diaspora, Carolene draws on the cultural and historical experience gained to inform her work. She has presented Playdays for the BBC and programmes for Nickelodeon, as well as being a dance consultant and dancer for the NHS section, of the Olympic Opening Ceremony 2012.
Caroline Jeyaratnam-Joyner
Caroline has worked as a trainer for niche and hard to reach groups for 18 years; working within community and arts based settings. Groups include: young and disadvantaged women, adults with English as a second language, refugee groups, people infected or affected by HIV/Aids and young people ages 0-25. She has worked with Spare Tyre as a storyteller and trainer on the Once Upon A Time project–for people living with dementia, and their carers. Caroline is also a trainer on the Spare Tyre masterclass programme. 
Passionate about fusing theatre, arts, yoga and meditation techniques; for participants to enhance expression, vitality and personal development, Caroline now wishes to share these skills with other practitioners. This is by offering them the space to nurture and revitalise themselves and their practice–to simultaneously benefit both the practitioner and the participant.
Caroline facilitates Thinking Space, Spare Tyre's peer-to-peer mentoring session, held three times a year. 
Bonnie Mitchell
Bonnie Mitchell is an independent theatre producer. Bonnie is Producer with The Wrong Crowd, an award winning visually inventive storytelling theatre company making work for cross-generational audiences, to date including The Girl with the Iron Claws and HAG. Fusing puppetry, text and music, she aims to delight, provoke and inspire audiences and remind them of the wonder of live performance. Bonnie is also Producer with The Paper Birds. They create work that is culturally, socially and politically observational and conversationally urgent. Bonnie is also Chair of Teatro Vivo.
Danielle Mullins
Danielle Mullins is an enthusiastic, energetic person who's interests are working within communities on creative projects and learning and developing skills whilst exploring and listening to people's ideas and stories. Danielle's skills are dance/movement in jazz, ballet, tap, contemporary, drama, musical theatre and physical theatre with N.A.T.D qualification and A-level in choreography.
Isaac Ngugi
Isaac Ngugi is a founder partner of Unclassified Arts, which has been specialising in community theatre arts training and drama-in-education for over eighteen years. Isaac continues to develop his research into drama as a tool for learning, engaging and conflict resolution.
Jo Paul
Jo has co-directed and designed theatre pieces with a combined arts company, whose work featured on BBC2's 'From The Edge'. She works in the arts sector, combining an arts practice of her own with facilitating workshops in drama or art, designing for theatre, dance and film and often working within the Disability Arts environment. Jo is also trained as an aerialist and featured as a trapeze artist in the Paralympic Opening Ceremony.
Rajha Shakiry
Rajha Shakiry is a freelance theatre designer with extensive experience in a diverse range of productions. Rajha retrained in theatre design after five years in marketing following an honours degree in Mathematics. 
Robert Stephenson
Robert trained at Rose Bruford College of Speech and Drama before becoming a founding member of Unclassified Arts Ltd who are an education and training organisation, specialising in arts education and creative development. 
Robert is a Person Centre Life Coach and regularly lectures at both Essex University and Anglia Ruskin. He also delivers SEN workshops for Mousetrap Theatre Projects and Stormont House.
Alice Theobald
Alice Theobald is an exhibiting visual artist and designer who graduated from Goldsmiths in 2007 and from the Royal Academy in 2014. Alice has since worked with vulnerable adults and children in creative workshops and research and development projects. Alice's practice aims to create immersive environments through combining art, design and performance art. 
Vern Raye
Vern Raye has worked on many Spare Tyre productions; stage and production managing 'Feeble Minds' 'Trojan Women' and taking 'Still Life Dreaming' to the Edinburgh Fringe Festival.  In this time Vern has also produced 'Devil's Bridge' a feature film with his company Kraken Film and Motion Ltd and taken on several acting roles in films such as 'Panic Button' and on stage in Andy Mosely's 'Going for Gold'.  He can also to be found on the Stand Up circuit and occasionally in the Amazon jungle.