Blog
Thinking Space Associate Artists Residency
Caroline Jeyaratnam-Joyner, Associate Artist & Thinking Space Project Manager
09 April 2019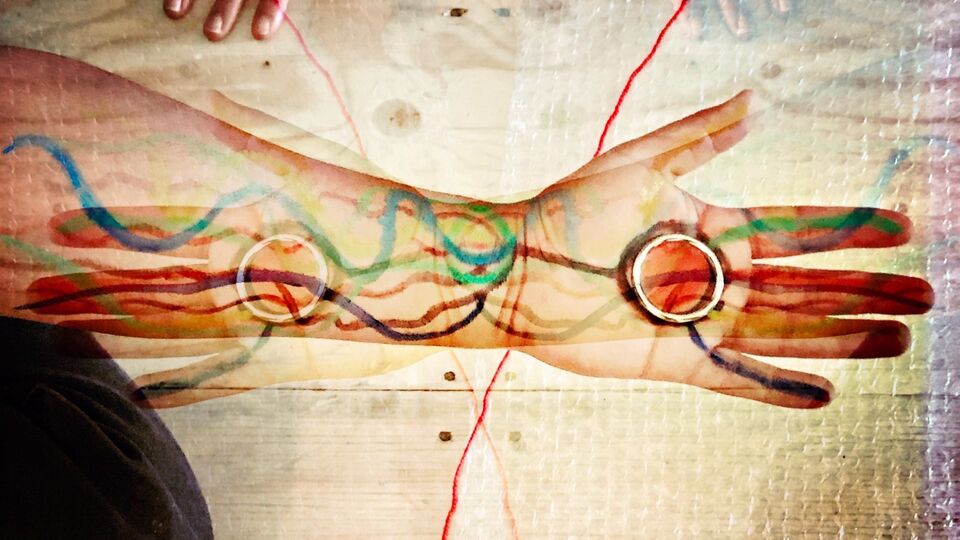 'Thank you Spare Tyre for this valuable experience'
Our long-awaited Thinking Space artist residency took place on the last weekend of March as the clocks sprung forward and we're all still buzzing. Fourteen Spare Tyre Associate Artists spent the weekend together and engaged with the rich and varied timetable. Through consultation they had picked the topics, themes and approaches for the weekend, and many led workshops.

We made Streatham Space Project our home, which proved just right for us. With a beautiful workshop space, friendly staff and a lovely break out café area we got to work. We made the most of the time and space to explore ideas and play, and even found time for a cocktail on Saturday evening!

There was a flow and progression to the weekend with discussions on topics such as practitioner self-care, safeguarding, resilience/flow and creative approaches. These foundations led on to experiential workshops which included: immersive digital arts experiments, devising non-verbal performance/facilitating creative play and collaborative music/voice/movement/immersive sound environments. Artists experimented with tactile materials, projection, paints, props, words, movement, sound vibration, touch and costume – to make new connections and see where they led.

Our potential for collaborative practice was renewed and gems of ideas started to grow. When asked to evaluate the weekend in single words artists used words such as, 'rebirthing,' 'provoking,' and 'freeing,' as well as 'fluid,' 'adventure' and 'giving'. It felt like we grew out of our comfort zone, also expressing words such as 'exhausting,' 'waves' and 'turbulence'–which is surely the point. We are all hard working freelancers and sometimes we appreciate the gentle push and opportunity to sit in an environment where we can broaden our horizons towards new beginnings. We appreciate Spare Tyre for its capacity to support us in this way.

Artist quotes from the residency included, 'Thank you for doing this! It is an honour to be part of today meeting everyone and having space and no pressure to perform.' This invites us to consider the request for, 'more of this on a regular basis,' whilst paying attention to the independent needs of each artist. Associates expressed their intentions to develop across a spectrum of art forms within the participatory context including: 'more experiments with tactility and sound making,' 'small productions of topical relevant dramas' plus 'writing, editing and making music'–to name a few. A need was also highlighted for healing/well-being sessions, one to one mentoring and a residency by the sea!
 
Spare Tyre's Artistic Director Arti Prashar dropped in both at the beginning and end of the weekend. During the latter Arti updated us on the current landscape of the arts and ways in which the Associates can continue to engage with Spare Tyre. We were keen to discuss how we can continue to navigate both the participatory arts world and get the most out of our work with Spare Tyre. The commitment of Associate Artists to continue to explore their work as participatory artists, was palpable along with their energy to work with Spare Tyre.

When the weekend came to a close, everyone was tired yet energised. Some were reluctant to leave. There was commitment to an Associate Artists WhatsApp group, sharing of information, coffee meets and cross pollination of working–as well as more artist residencies and the beginnings of international projects. There was a lot to sleep on and an excitement for what might come next...
'Thank you for doing this! It is an honour to be part of today meeting everyone and having space and no pressure to perform'