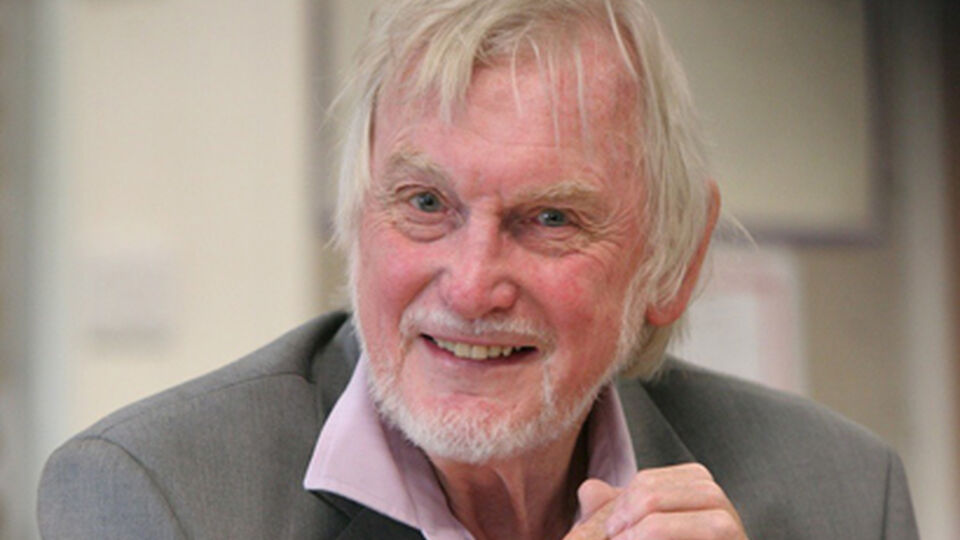 Jim Mulligan joined the Spare Tyre's Company of Artists in September 2010.  So far he has taken part in masterclasses in voice, and physical theatre, completed a film project and been part of Trojan Women.  Here he talks about how he arrived with the in Spare Tyre's Company of Artists and what it has meant to him.
Chance is the thing that shapes out lives. Consider anything that has happened to you – all right consider how you met the person you love – and there will be a chain of events leading to the first meeting and if that chain is broken in any way the meeting would never have taken place. Consider the torn tendon in my right shoulder that has been keeping me awake for about two months. Chain of events: bingo for the elderly; you'll MC for us won't you Jim, you're good at it; a step backwards and my legs contact some low steps leading to the stage; over I go; I put my right hand out behind me to save the fall and my body twists. Two months of disturbed nights.

When we talk about chance we are talking about inches or seconds. And, instead of a chain, a different image is of road that is constantly forking and we are choosing one fork rather than the other. But with the chain you don't choose because you don't know until afterwards how chance was operating. 'I you hadn't missed that bus Darling and if I hadn't popped into Boots to get some Lemsip and if you hadn't decided…' And so on
So what does this have to do with *HotPots? Chain of events: e-mail from Mick at Primrose Hill Community Association–anyone interested in a drama group for the over 60's; it's in The Pirate Castle which is five minutes away from where I live; someone, somewhere decided to have it in The Pirate Castle (if it had been anywhere else I wouldn't have bothered); the meeting I was to have on that morning is cancelled. I'll give it a go but I don't have to stay.
And that's how chance brought me to The Pirate Castle and HotPots and Spare Tyre.
Not very promising. I got the impression that I was not on the register even though I could swear I'd e-mailed that I would attend. Chance could have stepped in there if they had told me to get lost. But they didn't. Spare Tyre? Wasn't that a feminist group in the 60's? HotPots? Hot Potatoes. Don't look very hot to me. Fifteen or so, mostly women, one man in a wheelchair and one other man. That was September 2010 I think.
Today 18th February 2011 we had circle-time as they say in primary schools and someone made reference to being new to the group. 'There is nobody new here. We are all HotPots.' I felt absurdly pleased and delighted and cosy to hear that. I am a HotPot. And Isaac says, 'I guarantee if anyone was watching today they would not be able to tell the difference.'
I have already given a walk on part in my novel to one of the HotPots. And that's interesting. It might be a coincidence but after a four-year gap I have started on The Tide Watcher again. And it's going well. Maybe HotPots has stirred up some creative juices.
The HotPots are oldish and come with the stiffness, the over-weight, the dyed or thinning hair and the irritating dogmatism that comes from self-assured people with sixty or more years of experience. But in my eyes they are gorgeous. They are generous, they are fearless. 'Walk around the room. Now get close.' Unquestioning we huddle together. 'Closer.' And we feel the bulges. You only ever get this close to people in the rush hour on the Northern Line. And that's horrible. This is being a fearless HotPot. And we laugh. Every Friday we laugh. And laugh and laugh.
And here's the interesting thing. When we started on Trojan Women – Carry On style I said to myself, that's one thing my family will not be going to see. And yet, today, Isaac walked us through it and we could see: this will work. Next week he has promised the script. Can't wait.
Jim The Quill
*HotPots refers to what is now called the Company of Artists 60+