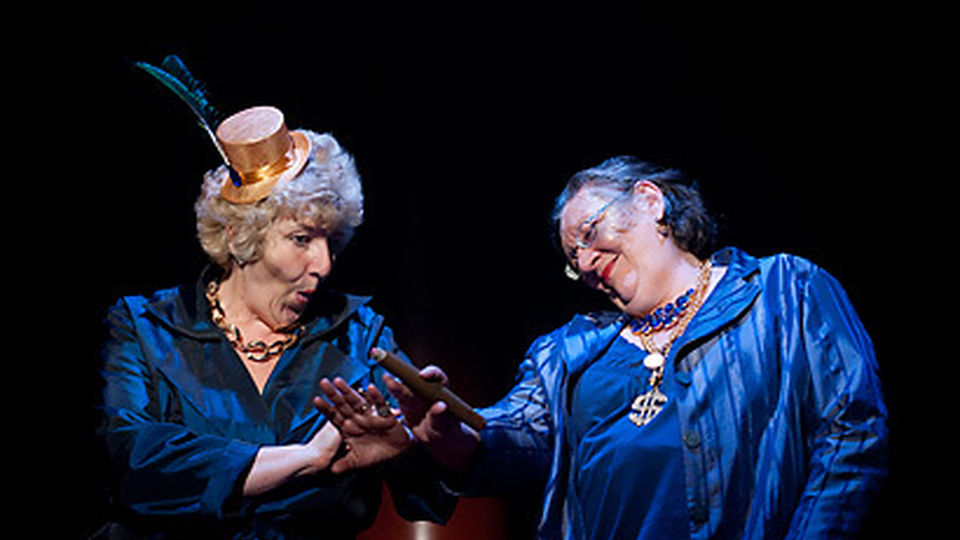 Vicky
Vicky has been in many past productions with Spare Tyre's Company of Artists (some of whom previously known as the HotPots).  During 2009 she was involved with the show Feeble Minds which brought together Spare Tyre's Company of Artists aged 60+ and Spare Tyre's Company of Artists with learning disabilities.  The two companies worked together as one ensemble, to devise, rehearse and then perform the show.  Vicky was asked what she thought about the project halfway throught the process.  This is what she said:
Devising with both groups is a joy.  Each week I am astonished at the depth and meaning of my fellow HotPots and inc.  It is a form of creativity that fills a hole in my life that I didn't know I had. I feel complete at the end of the day. It's like a satisfying meal, a lovely day out, a holiday–we work hard and it's not hard work.  Sometimes I go home and have a deep sleep–it's very satisfying letting my unconscious thoughts become shapes, sounds and form.  The safe environment, warmth, lack of judgment, encouragement, allows us all to explore ourselves before the inept censor cuts out and pushes the thoughts back into the hidden world.
Linda
Linda is a relatively new member of Spare Tyre's Company of Artists (some of whom previously known as HotPots) and joined in January 2009.  Like Vicky, she was involved in the production Feeble Minds, devising and performing in the show.  London Councils, one of Spare Tyre's funders, asked Linda to tell her story for their website.