Spare Tyre was founded back in 1977, by a group of women who wrote and performed a play about their personal experiences of body image. This technique of focusing on the personal to illustrate a wider political point became the Spare Tyre trademark. Since then, the charity has created dozens of theatre productions all developed entirely from the personal stories of different voiceless communities.
Below are just some of the key projects that have taken place over the years.
This timeline was put together by Louise Rigglesford from Central School of Speech and Drama during a placement with Spare Tyre.
1979-1989
Comical Feminist Cabaret
Clair Chapwell placed and ad in "Time Out" inviting women to create a piece of theatre based on the book Fat is a Feminist Issue by Susie Orbach
Baring the Weight was the first show looking at the Company's view on food and the issues discussed in Fat is a Feminist Issue
The founding members of Spare Tyre: Clair Chapwell, Harriet Powell and Katina Noble continued to make comical, musical theatre about personal issues affecting themselves and other women: How Do I Look - self image, Just Desserts - compulsive coupledom, Invisible Woman- women's health, Laugh Lines - approaching 40, Head Over Heels - love, and Gone Shopping - values and money.
1984 and 1987
Young Unemployed People
Spare Tyre began making community theatre with a training project for young unemployed women run in partnership with The Cockpit Theatre
Fists and Fingernails was devised as a cabaret about sexism with young unemployed male and female participants
1991–1994
Theatre In Education 
Spare Tyre began creating and touring TIE performances. Projects included Oxfamtastic! - commissioned by Oxfam to celebrate their 50th anniversary as well as Poor Worldand Dancing in the Dark
1993–1996
Adults aged 60+
Spare Tyre began working with adults aged 60+. Projects included In My Day – which the BBC created a documentary about and A Present to Myself – created at Hackney Residential Care Home
Gas Mask on my Shoulder and In Between Days were both written with the Hainault Writers Group
Young Unemployed People 
Time Piece, OY! and The Family Way were all created in collaboration with young unemployed people
1997–2000
Adults with learning disabilities
Going Places, On the Edge, Inside Outside and Restless Heart were devised by adults with learning disabilities for the RedForest project
LGBT Community 
Life On The Outside, Crossing the Tracks and Families: A Pink Guide were devised with the LGBT community for the Pink Project
Adults Aged 60+
I'll Tell You A Life…, Getting By… and The Old Joanna were all created with older people living along the Thames as part of the River Project
Young Homeless People
The Dream Factory with the London Connection was devised by a group of young people and looked at the differences between dreams we have as children and dreams we have now
2000–2002
Adults aged 60+
Older People devised Same Meat, Different Gravy, It'll All Come Out in the Wash, and Thank God for the Radio for the Coming to Camden project
Older People devised and toured pieces of Forum Theatre to older people's care centres and schools as part of a Workshop Leaders Course
Theatre in Education
Other People's Shoes explored the stories of young people on the margins, using characters including a lesbian, a refugee, and physically disabled person.  It toured to schools in 2002 and 2003
LGBT Community
Constant Companions was a musical play to celebrate the prior century of lesbian and gay history
Young Homeless People
Associates...Friends with London Connection and Raw Material got young homeless people involved in creatively and explored friendship, betrayal, secrets, trust and loyalty on the streets of the city.
2002–2005
Adults aged 60+
Spare Tyre began the Seniors Confronting Alienation through Theatre (SCAT) project for adults aged 60+ 
Home Sweet Home, Risky Business and Bedlam! were devised as training for emergency service workers as part of the SCAT project
What's in it for me?, Move with the Mood and Hot Locations were performed by older people in care homes as part of the SCAT project
Adults With Learning Disabilities
Spare Tyre set up the inc.Theatre course for adults with learning disabilities
Shining in the Shadows, Tempest and The Art Roomwere devised by adults with learning disabilities during the inc.Theatre course
LGBT Community
Spare Tyre revived its LGBT work with three touring T.I.E pieces tackling homophobia in schools including Burning, as well as Dealing with Difference workshops for school staff tackling issues associated with homosexuality
2006–2009
Adults Aged 60+
Look at me, What do you See?, Alice and Angina Monologues were devised and toured by the HotPotsgroup of older artists
Feeble Minds was the first collaboration between inc.Theatre and HotPots inspired by Shakespeare's Timon of Athens
Adults With Learning Disabilities
Arabian Nights and Days, Pieces of Ourselves, and Dark Inc were all devised and toured by the inc.Theatregroup
The Go inc to work scheme was set up for adults with learning disabilities to enable them gain skills and experience working professionally in the performing arts
Feeble Minds was the first collaboration betweeninc.Theatre and the HotPots inspired by Shakespeare'sTimon of Athens
LGBT community
Pretend Familes - a play for 9-11 year olds looked at how children can understand different types families and toured to schools.
Burning continued to tour to young people in schools tackling homophobic bullying, and a DVD teaching aid was created.
2010 Onwards
Adults With Learning Disabilities 
I'm an Artist, let me in! was created as part of the Go inc to work scheme as a showcase performed to performing arts employers.  It was performed at the Spare Tyre Festival at the New Diorama Theatre and toured to schools and arts venues across London.
The inc.Theatre Ensemble became part of Spare Tyre's Company of Artists.
The Spare Tyre Band, featuring adults with learning disabilities, began in 2012 and has performed across London including at the Lord Mayor's Show
Adults aged 60+
Older People With Dementia
Once Upon a Time, a new way of working creatively with older people with dementia, toured nationall 2011-15, including to care homes in London, Plymouth, Wales (Gwanwyn Festival) and Scotland (Luminate Festival).
The Garden, an innovative multisensory performance for people with dementia and their carers, began touring in 2015. Since then it has reached over 1,000 people with dementia and 500 carers nationally.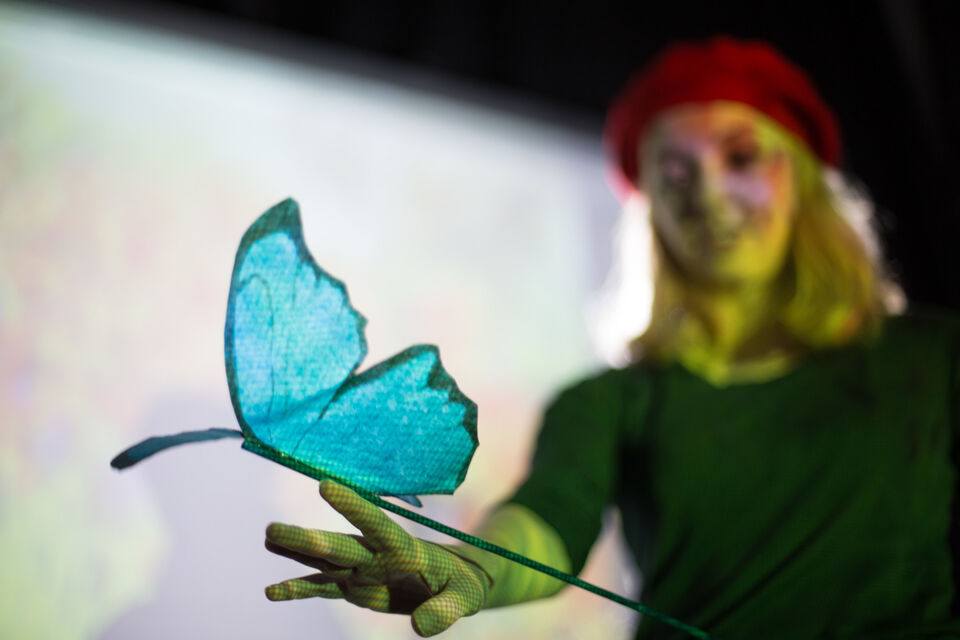 Women
Spare Tyre celebrate women's voices with Picture Me.
In 2015 and 2016 we worked with Solace Women's Aidand Refuge on the Blue Skies project
Communities
We have worked in the community of Roehampton, Wandsworth, since 2011, producing projects including Roehampton Radio and the Heritage Lottery Fund supported Over the Road