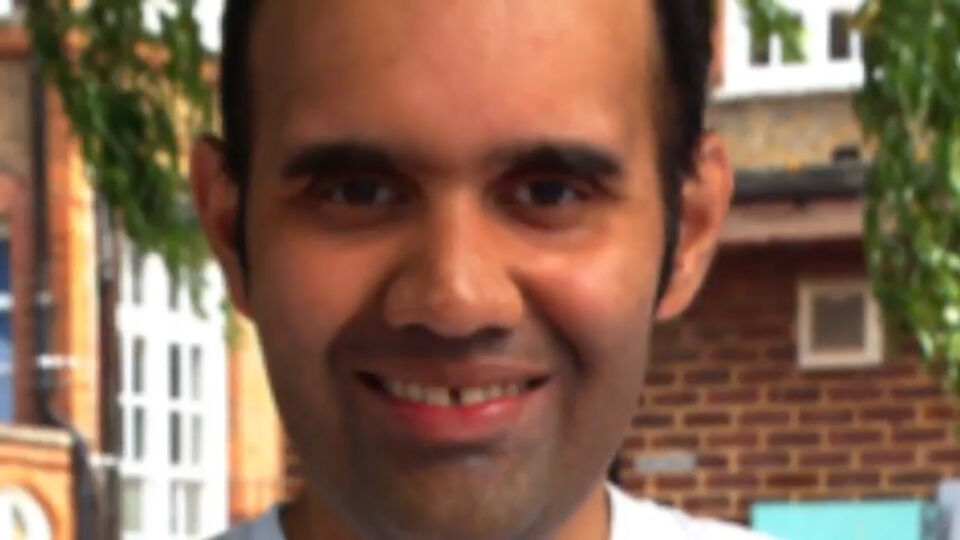 My name is Chirag Patel and I'm involved with Spare Tyre.

I started Spare Tyre in 2003 in September when it was in Downsell Centre (…) bit of voluntary work. Then I did some Band… involved with the people with disabilities, to help them… to do a creative… a song.
 
Back in 2012 we were doing the… we did (…) Olympics, 'Lively Teamwork Global Family' – we got all the different instruments, and we were doing this horn we made an instrument and um, we had some workshops with like cans, bottles, sticks, we (…) want to make instruments for the kids, and you know like shakers that we put some rice and… they can shake a bottle. And it was really (…) people want to share.
 
The audience were very good. And I think they… they were happy, think when we were playing the instruments coach was… had to go slowly they were truly fantastic and I think everyone loved it. All the audience were cheering cos it was the parade. You know when you go forward, you know when we sang… and it was really (…) great, I think it was a miracle.
 
When we did The Tempest, um, Arti worked with the people. We'd sit down and we'd just have to go through scripts but then we'd… we worked it out slowly and then we had to go on the stage and then (…) practice it. It takes time and I think (…) it's really helpful when I was younger at the time.
 
The other one after Tempest was Picasso in 2005. We went to Tate museum in London when we… with Arti and the rest of them and there was some different, different museum drawings… that helped the profession they were doing [helped develop the character]… I was doing a, I was playing the pirate because it's a drawing. It was really, I got really green in my teeth (…) really scary cos I think when I made a hat and it was a costume but it was very tight and I think it was really princy (…) have a sword, and you played that, green in your teeth, think it's… scared.

I think drawing [playing] the pirate was great.
 
I was involved with the Heathbrook Primary School and I think I wanted to share with them cos they were so (…) friendly to… with me and the Spare Tyre members, the staff, and I think it was really giving development to the kids and I think it was amazing to people and I think I was really… might do some more next year maybe.

Like to work with the children, like with workshops, and I think like if it's like with music to do with like saxophones or drums or… if they get stuck with the work then assistance can help what you're playing with, playing with the instruments or if you're stuck with your worksheets then can give them a… give them a hand.

[Bringing experts to] Heathbrook school I think… they were really with staff and I think they were really… they were so proud with the kids and (…) with Malakai was asking for biscuits and the kids wanted some food but I said 'you've got to focus on the work' but kids always get hungry don't they.
 
I feel changed so much now because I'm 36 and I think, I think it's going really well, things (…) really happy it's really, really fantastic.

Well I've been here for a long… for 14 years, and I think (…) I've done this for many years giving the passion to everyone. Erm, it helped my reality, created my career and it means a great experience and also to, um, work together as well as part of the team. Get to know other people.
 
Given more different key skills, given more like abilities, giving like more responsible and trustworthy and it's given me more, like, different skills. So that you go to a next one, it grows higher and higher.

Sometimes it can be very stressful and you know like (…) if you're tired or something then… take a bit of break and just… cool it down and then you just have to come and… calm self down and then… just um, take your time.
 
Just want to say happy birthday Spare Tyre, Spare Tyre Theatre Company cos it's been 40 years, it was back in 1977, and you know it was really part of my experience and I think we wish them… we wish you all the best, and I think really giving a chance to all the members and staff, the students, and you know apart from back in the past old ones, and the regs, we got new ones, and it's really, really enjoyable.
 
Been so happy, this is great; it's like an inspiration – giving me a creative to share with people. Keep up the good work.


Chirag has been one of our regular artists since 2003, working on shows including The Tempest and Arabian Nights. Most recently Chirag was a member and workshop leader for the Spare Tyre Band. He is also a radio presenter for Bedrock Hospital.

Chirag talked to us about the Spare Tyre projects he's been part of, and what he's learnt from his experience with us.