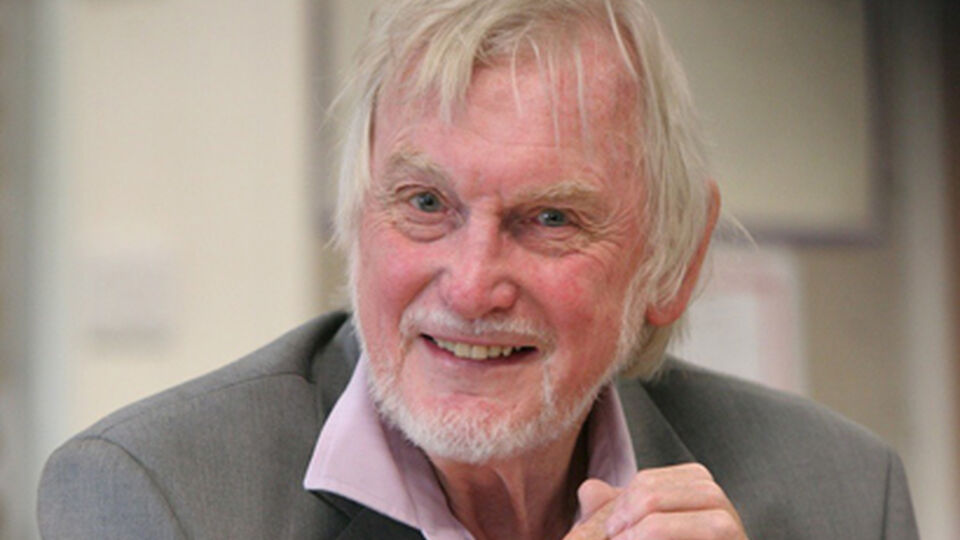 Jim Mulligan. Working class family, my father was a bus driver, my mother never worked, family of 9 children. I was born before the war and I lived through the war I was about 9 or 10 when it finished. So experienced all that. Erm… very working class ordinary family. 
I live in Primrose Hill and near the canal, and a five minute walk from where I live is a place called the 'Pirate Castle' and I saw… I think it was an advert by the local community centre saying 'if you're interested in drama it's on at the Pirate Castle at 10 o clock' [HotPots]. So I walked along and I remember deliberately thinking 'well if I don't like it I can come home at dinner time'. And when I walked in, I'm sure they weren't expecting anybody, they were a well-established group of about fifteen people. Don't even know if Arti was there but somebody was there running it. Anyway, they just accepted me and I went it, they were all women except there were two men there, one in a wheelchair, all over 60. And they were doing a workshop, with little drama activities and stuff like that, I'd never done anything like that before. And… I thought it was great, so I stayed after lunch, erm… and then we met every week, during, y'know… for batches of 10 weeks I think it was. From 10 o'clock til 4 o'clock with an hour for lunch, that was a huge… and no, no charge. And these people, these women, they loved it and it was very important to their lives. They all had something… in their lives that was difficult. It gives them an escape from the dreadful things that are going on in their lives, it gives them a group identity and it allows them to create together, that's what they get out of it.
 
And what I found interesting is that there's a kind of ephemera about those things, you do a workshop they say 'right get into groups of 4' give you a little scenario, you've got to work on it then you perform it for the rest of the groups. And it's never seen again… and… two or three times every session there would be something magical happen… that was gone forever. Um, so that was really… important.

There are… big things going on in people's lives and they bring them in, they might have had (…) the most awful thing happening at home before they come… and… they can't get it out of their head. And they're old people as well, we're talking about 70/80 year olds… and 70 and 80 year olds are very opinionated. And… that's the way it is.

Every time you switch on the radio nowadays they're talking about the problem of older people and the last years of lives, three years or so when they need care and all that sort of thing. Things like drama, dance, choirs, I suppose the visual arts painting and all that sort of… anything like that is incredibly important; emotionally, socially, it's staving off the advent of dementia. It's giving people who are lonely, and probably been widowed for god knows how many years, erm… it's giving them an opportunity to thrive. Without that they'd just be sitting at home and quietly going mad.
 
So I don't have to justify it, it's patently obvious. That's what it does. What you can't get is this bloody government to see it. You can't do it without an organisation You can't say to a group of people 'oh just get together at each others houses and do it' they can't do it. Tried it with Spare Tyre, when Spare Tyre stopped being funded, tried to get together as a group… just didn't work. You need that structure and you need the support. You need the structure of Spare Tyre to enable people to achieve what I've been describing. Their role is to work with people who don't normally have a voice, to give them a voice, to produce high quality work, and let that work speak for itself.
 
The weekly workshops where you build up you build up and you've got these experts who are facilitating it, and the trust is there, and you will give things, expose things in a way that you wouldn't do, that's the thing for me. That's Spare Tyre working week in week out with people who wanna be there, who love being there, who are very needy. Erm… that's what it's about.
Jim was part of our group of artists aged over 60 called 'HotPots' from 2010, and has been our trustee since 2013. He was involved in shows including Scratches, Angina Monologues and Trojan Women. 
Jim spoke about the importance of our work, particularly within the context of an increasingly ageing population.