Blog
The Twelve Days of Spare Tyre - 2021
John Holmes, Executive Director (Joint CEO)
01 January 2022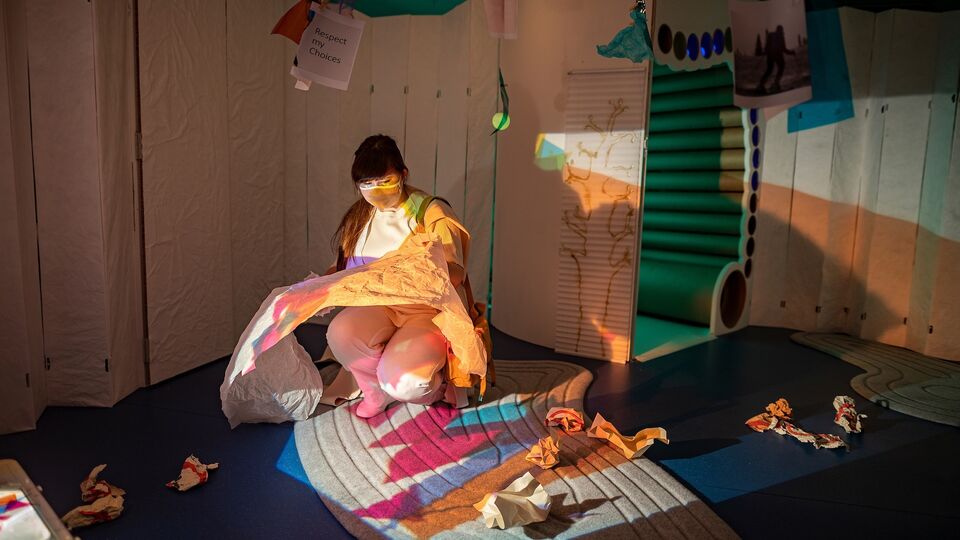 1. We Will Be Happy Here
In June we finally got in the room to make Rebecca's first 'in real life' show since she became Artistic Director just before the pandemic.
Not that it was any old show. We Will Be Happy Here became a multi-sensory installation that could be experienced by one social bubble at a time.
Co-created with our friends at Bangladeshi Parents and Carers Association, it premiered at Kedleston Community Centre in Tower Hamlets in August. 
More on We Will Be Happy Here later...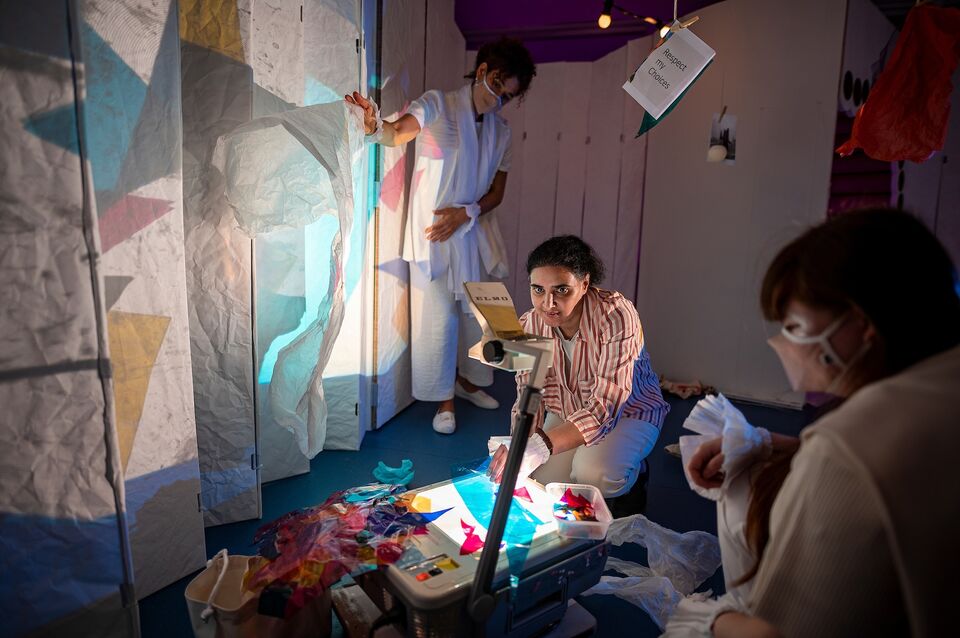 2. Statues for the Unforgotten
Back in March, when everyone was still essentially locked down, we created Statues for the Unforgotten a second online show in the style of last year's Signal Fires: Beyond The Shield.
Rebecca was inspired by contemporary statue controversies, such as Edward Colston in Bristol, and invited spoken, visual and musical ideas for statues of people less visible in public life. 
If You Can Breathe for Cynthia Dunn, performed by The Befrienders and Voices in Motion
3. Ghyama Arts!
In October, we began year 2 of Ghyama! Arts (meaning 'awesome arts' in Bengali) with Bangladeshi Parents and Carers Association. 
With enhanced Covid-safety protocols and a bubble system, our facilitators have been able to resume sessions at St Margaret's House in-person.
Knowing there are still some participants at home and unable to attend, our facilitators also provide online sessions. It's been great to reconnect with our friends, who also co-created We Will Be Happy Here with us in the summer.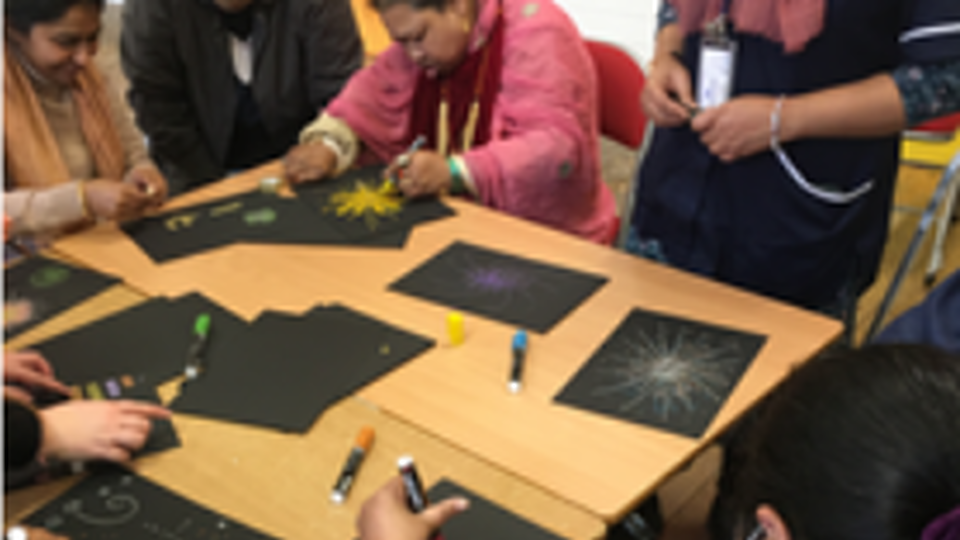 4. Tyre Change
In May and June, we recruited 8 early-mid career facilitators and artists from a range of disciplines, backgrounds, and experiences, to take part in Tyre Change, a paid training programme.
Over 2 months, the group came together online alongside experienced Spare Tyre artists to learn about multisensory practices, share ideas, and develop their professional workshop skills. 
This cohort was supported by funds from the Culture Recovery Fund. We hope to run another training programme in 2022.
5. Spare Tyre Through Your Letterbox
We were funded by the NHS Better Care Fund to offer 'Through Your Letterbox' multisensory packs to people living with dementia in Haringey. After being referred, our artists made phone calls and sent interactive postal packs.
We were joined by University of Derby students studying Creative Expressive Therapies. They worked with us remotely to create fantastic sensory videos for inclusion in the packs, such as this one.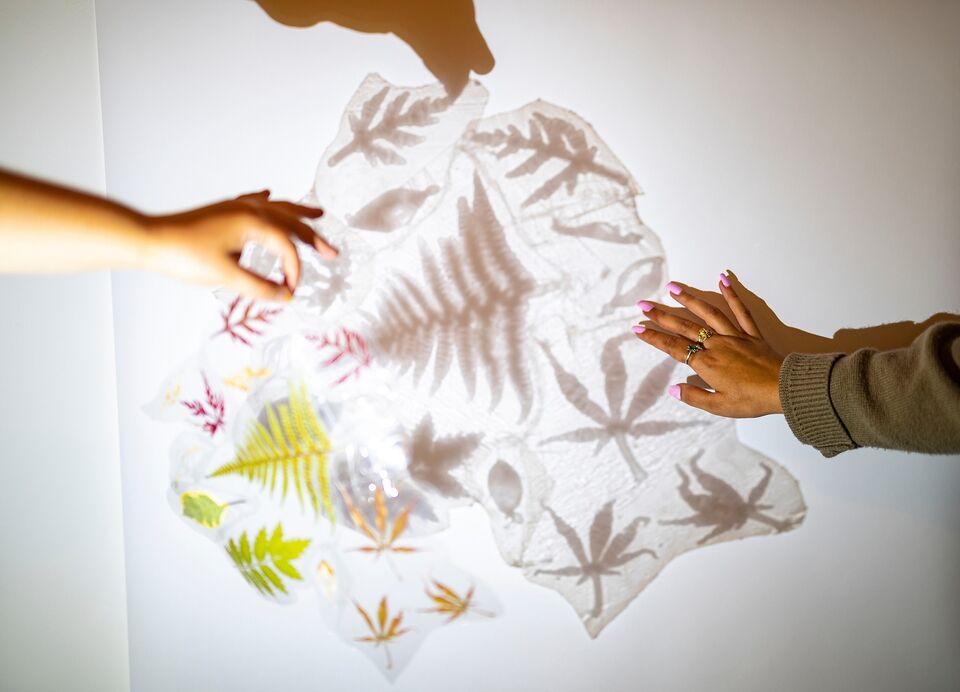 7. Project with Solace Women's Aid
Artists Yolande Bramble-Carter and Lisa Muten worked with Solace Women's Aid on a project using creativity to help women with experience of abuse or violence rebuild their lives.
Supported by the Cultural Recovery Fund.
9. Covid Café 
This year we've been developing an idea called Covid Café -  a creative inclusive space for anyone learning to live with Long Covid.
Here's an explainer from Rebecca Manson Jones ahead of the first Café on January 26 with St Margaret's House.


10. Together
After much delay due to Covid closures, we were able to safely resume in-person workshops at the Haynes Dementia Centre, Haringey. This is the fourth year of a partnership with Jacksons Lane, called Together, and funded by City Bridge Trust. 

Our artist facilitators, Lisa and Elly, lead multisensory sessions for people living with dementia who attend the day centre. It's been fantastic to connect with participants again, new and familiar

11. Festival of Radical Care
In September, we teamed up with Angela Clerkin and The Albany for the Festival of Radical Care. Our Pods Of Solace sensory installation was complemented by workshops exploring writing as self care, microgreens, and a meeting for carers.
12. We Will Be Happy Here online
One of our favourite moments! We debuted our Zoom version of We Will Be Happy Here with guests at Uniting Friends. 
Our performers were in Bethnal Green, with sensory materials sent to Redbridge for the group to actively take part.