Events
Shielders' Stage - Covid Cafe Creative Share
Thursday 21 September at 3pm
Live on Zoom
The Covid Cafe Creative Share is an informal invitation to anyone who has attended our Covid Cafes in 2022 or 2023 to participate in a sharing of art and craft made whilst you have been living with Long Covid or other condition. 
We're holding this event because a few of you have told us you'd like a space to share what you've been doing with other people who may be enjoying doing similar things, with similar limitations e.g. working from your bed, budget, energy envelopes.  Back in May we enjoyed contributions from a few people and the conversation was unexpected and resonant for us all.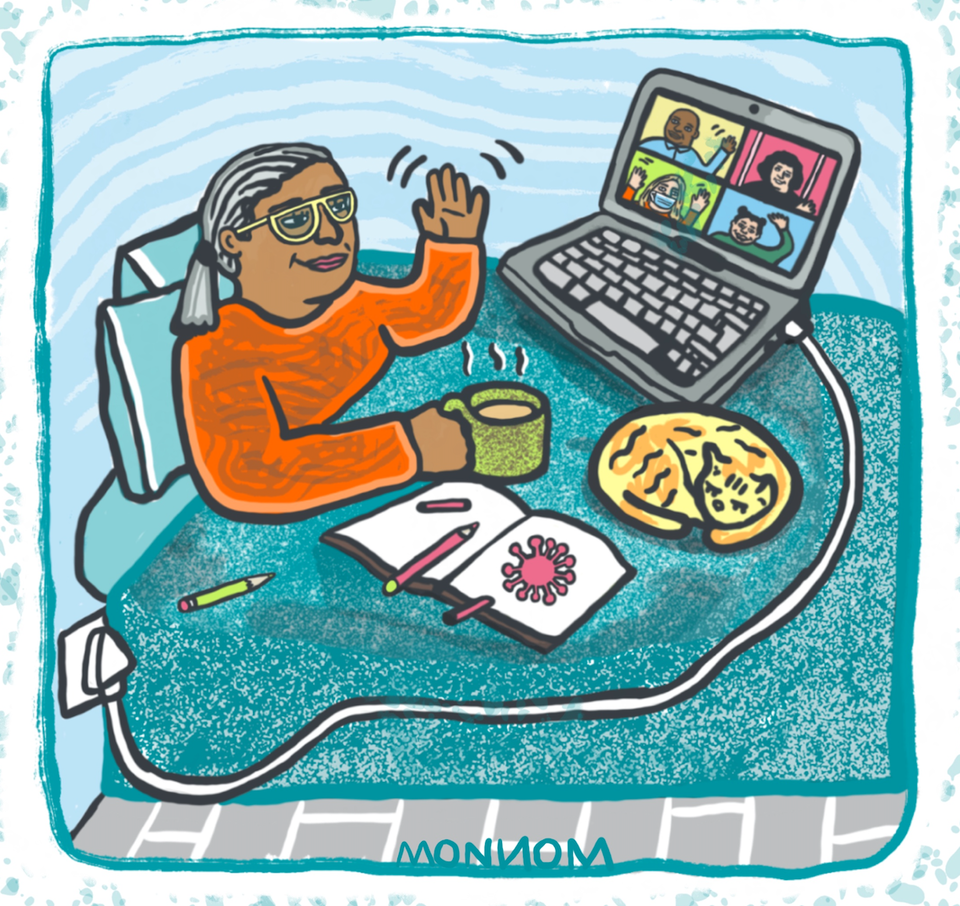 How Do I Get Involved?
There are three ways to take part in the Covid Cafe Creative Share:
As a contributor.
By generously being an audience for the contributors.
1 & 2 combined.
To confirm your attendance, please email Claude on CovidCafe@sparetyre.org (don't worry, Lara will be around, she's just taking a break right now).

Can I just come along on the day?
You can just drop-in as ever but if you want to share something, prior notice is helpful.  It's also helpful to us if you let us know in advance so we have an idea of who we're expecting and we will send the Zoom link and a reminder closer to the event.
What do contributors need to know?
Each contributor will have 5 minutes to share. (You don't have to do a full 5 minutes). We will need to keep you to five minutes to allow space for everyone to have a spot.
You can share live by introducing a piece of work you've made, or tell us a story of how you made it, or how we can make one like it at home.
You can read a poem or two, or a short story.
You can share a movement piece with us.
You can photograph /video your item or object and send it to us to present, or you can record yourself on audio and send us that.
You can send it all to us in advance, and then sit back and relax at the event itself in case energy gets the better of you. Or Share it live on the day. It's up to you. Please let us know how you'd like to share, so that everyone gets some time. We'll be happy to share additional materials to the group if you'd like us to and are happy to.
If you'd like to take part, please let us know asap and give us an idea of what you've got to share. We'll need to receive full details and any recordings /audio/ images by 13 September at 5pm. This is so we can as far as possible make the event accessible and inclusive. Send all enquiries to Claude on CovidCafe@sparetyre.org
We're looking forward to reconnecting again after the summer.
Curated by

Rebecca Manson Jones and members of the Covid Café team