Projects
We Will Be Happy Here
Thursday 5 to Friday 20 August
Kedleston Community Centre, Tower Hamlets
A promise, a manifesto, an experience. 
What would it feel like to live in a HERE and NOW that is properly inclusive? A place designed with you, for you: not just the bricks and mortar but also the values and the rules. 
What would it feel like to move around, to meet people, to party or hang out, have fun and look up at the stars …. ? What would it be like to be able to experiment, make mistakes and start all over again?  What possibilities could that open up for you, your family and how might it change what you do and who you become? 
The Experience 

In Summer 2021, we are co-creating an inclusive, sensory, interactive pop-up installation made with and for learning disabled people (professional artists and everyday artists) and their friends or family.  
With original music, visual and tactile stimuli and savours, we take you on an hour-long journey through an imaginary but very recognisable place. With our "tour guides" to help, you get to create your own version of HERE and share it with other people who will come after and pass on their ideas.  
HERE isn't stuck in tradition.  
HERE is constantly reinventing and finding new solutions and new possibilities.  
HERE is where you can be yourself, real or imaginary, present, future, past.  
Who knows where you could end up/take us? 
We Will Be Happy Here premieres in Tower Hamlets, London in August 2021.
"The person-centred approach you guys bring is so powerful and important".

Stuart Cox, St Margarets House
Creative team
Rebecca Manson Jones direction/ concept
Jo Paul design
Guy Hoare lighting
Alice Theobald sound
Yolande Bramble-Carter Aurora
Your Venue 
We Will Be Happy Here can be experienced live and we are working a digital version. It can be presented in theatre studios, arts centres, community spaces and care settings. 
Explore the sights, sounds, smells, joy and challenges of a day in the life of an inclusive HERE - a place that is accessible in every sense of the word and in some that we don't know about yet.  
The Audience/participants/co-creators 
Even before the pandemic, attitudes towards difference made it harder for people from some communities to participate in life as full citizens. Now lockdown has opened up opportunities for some people, while putting others at more risk of isolation and prejudice than ever. By involving audiences as participants and co-creators, We Will Be Happy Here recognises everyone's potential and encourages many forms of creativity.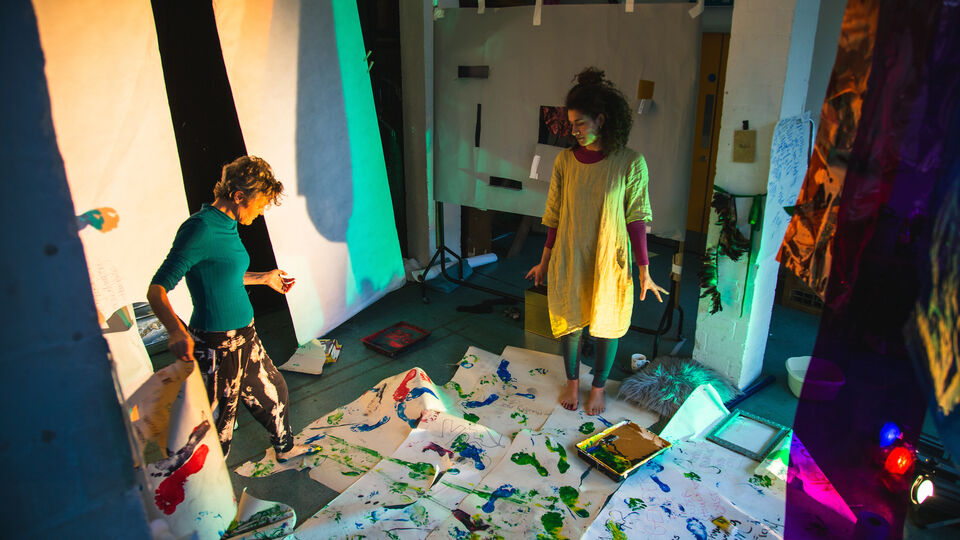 Our Visit 
We Will Be Happy Here can be created new as a series of participatory workshops with a community group, finishing in a multi-sensory installation adapted as necessary for social distancing regulations.  
We like to get to know a little about our audience/participants and their carers to make the experience pleasurable, fun, comfortable, bespoke and a bit of a challenge. We offer a previsit, a social story and an exchange of information so that we can be sure to meet our audiences where they are and support their differing access requirements. 

It was a unique, multi-sensory experience. The performance was engaging and inclusive. Our members and support workers fed back that they felt they were part of the experience and never seen anything as engaging and accessible.

Michelle Kitch, Kingston Mencap on The Garden
Project supporters
This project has been made possible by an award from People's Postcode Trust, a grantgiving charity funded entirely by players of People's Postcode Lottery.