Blog
The Once Upon a Time tour begins
Arti Prashar, Artistic Director
05 October 2012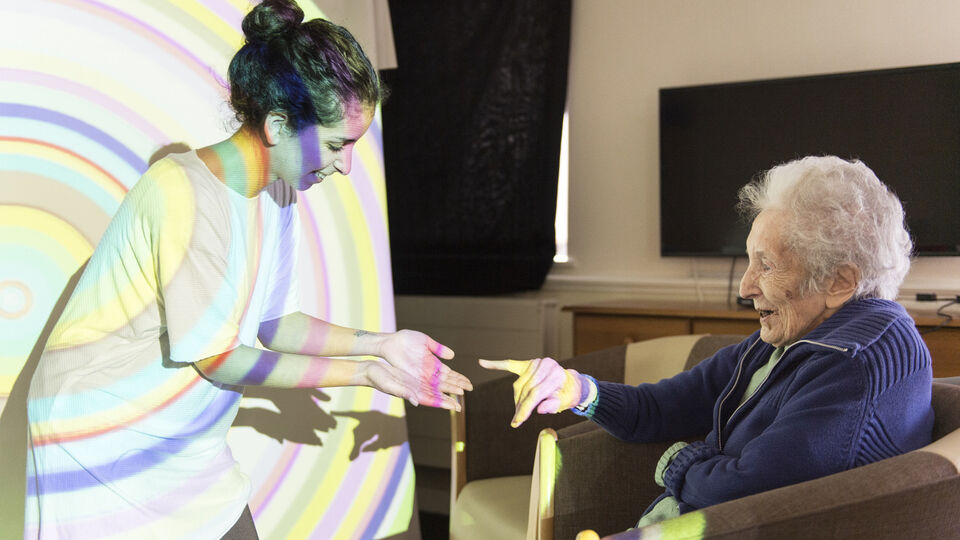 We are officially on tour. A tour that takes us to Scotland for 2 weeks to be a part of Creative Scotland's Luminate Festival – celebrating the creativity of older people.
We are taking Once Upon a Time out. Our interactive multisensory storytelling programme for people with advanced dementia. That's a lot of long words strung together but it describes it pretty well.
It all started on Sunday morning when we met at Waterloo to make the long drive up to Aberdeenshire armed with Serena our Sat Nav.
Only one stretch of driving in the rain. We made it in good time to see a beautiful full moon coming up over the hill that we were driving towards, as instructed by Serena only to then find ourselves in a ditch!!!
Reversing back very carefully we turned Serena off and followed our nose lit by the moon – it was glorious.
The office have been very nice to us vagabonds and booked us into a lovely self-catering house in the wilds of Scotland. This morning there were deer in the field next door.
We are quite a domesticated bunch shopping and cooking together – in the good old days – yes I'm reminisencing – we did 'other' things together. Oh well.
We've just come back from a walk in the woods and the more adventurous went for a jog. And now here I am under instruction from HQ to write a blog.
So I suppose I ought to tell you a little about how the interactive workshops have been going. Even enjoyment – we are being paid to work and be creative.
Well, you find the home, make contact with the arts co-ordinator or centre manager, make sure we are expected, find the room we are in, unload and set up. Our participants arrive on foot, wheelchair, bedchair, zimmer. We never quite know who we are getting and the fun begins. Immersive theatre that makes even the most cynical weep with emotion when we engage with their senses: taste, touch, smell, hearing and sight. It is a feast to behold. The room is transformed. The participants delighted.
The team is exhausted but exhilarated at the same time. Every session holds new wonders – who will respond to what, what will we extend or not, how saucy and cheeky can we get and how many cakes can we eat?
It's our team's ability to respond with integrity to people with advanced dementia that moves care staff and other observers. Every response is accepted and validated. Accepted as a creative response and validated as creativity. Seeing people who are not communicating suddenly speak or smile or paint or play with torch light–and for a moment be with us all–is truly a precious moment.