Blog
An experience of Once Upon a Time
Ellie Shipman, Administrative Assistant
01 December 2011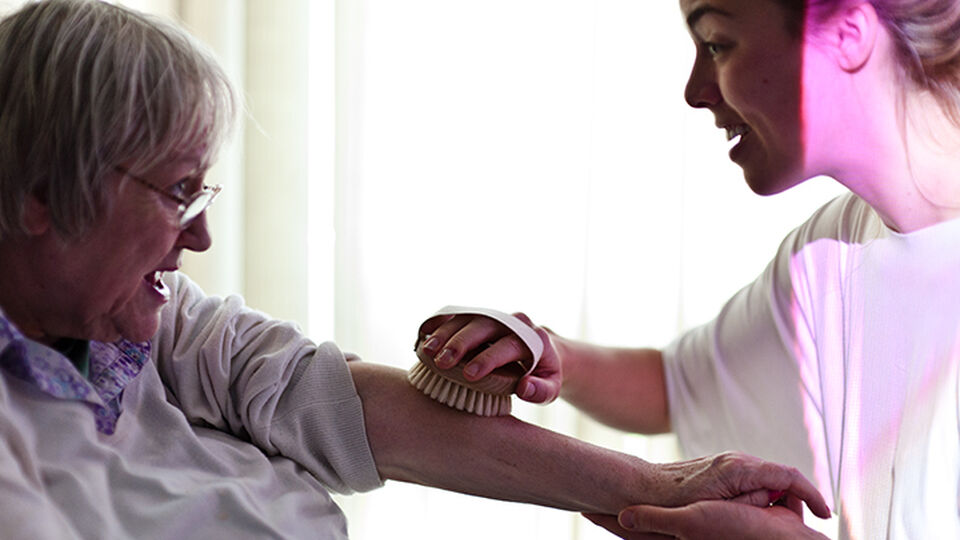 Eleanor Shipman is a new member of staff at Spare Tyre, joining the company in May 2010. Eleanor went to observe a Once Upon a Time workshop in October.
'Right, let's do some work' Spare Tyre storyteller Heba enthused as she leapt out of the van. It had been a long journey winding round the motorway, and the Once Upon a Time team were eager to begin.
At the time of writing they are halfway through the tour. The experience shows as Nick, Stage Manager and Musician, and Heba and Helen, Storytellers, have their routine down to a T, effortlessly bringing interactive and engaging multi-sensory storytelling to people with dementia across the UK.
Moments later the set up was complete: a large white disc of light shone onto a screen surrounded by a white semi-circle acting as a mini 'stage' on the floor. A multitude of fascinating and unusual instruments covered every surface and, as the white disc of light began to ripple with colourful circles expanding out to its edge, strings were plucked, beautiful music filled the room, and the participants came in.
In an almost hypnotic bubble of an atmosphere the Storytellers, now dressed in white, welcomed the residents–clearly introducing themselves whilst expertly remembering everyone's names, needs and personalities from the previous sessions. Most participants seemed calm and allowed themselves to be drawn into this new world.
Others were less convinced: 'I thought we were going to do something!' one lady exclaimed. Heba and Helen responded differently to each individual, encouraging all responses through the subtleties of a hand on a shoulder or knee, the warmth in their smile or the most appropriate time to hold eye contact. These empathetic, finely tuned and deft gestures were only noticeable to an observer, but the absorbing effect they had on participants was astounding.
'Once upon a time there was an old woman…' Helen began, pulling a house silhouette up out of a book. 'That's me!' a participant said, immediately engaging with the story. The story continued, taking the participants on a beautiful journey, using multi-sensory props to enhance the story and create a highly accessible piece of theatre. They were taken on several train journeys, felt the warm breeze on their faces, tried the world's most delicious cake, smelt refreshing citrus from orange groves and even had some spa treatments.
Lastly they were taken into a room filled with beautiful music. 'It is beautiful!' a participant agreed. Nick and Helen played the unusual instruments, and the 'stage' became the room, with participants who had entered in wheelchairs now standing up and dancing together. 'It was lovely to get off our bums!' one said.
'The only way you can play with someone', explained Nick, 'is to encourage them on an equal level'. Another observer agreed: 'the storytellers were so expert with their communication, they performed even 'hello' with such integrity and genuineness'. Not only engaging with participants but family members, carers and staff, Once Upon a Time from Spare Tyre was a touching and captivating story-telling experience which will not be forgotten.