Blog
Product vs Process
Jo Paul, Spare Tyre Artist
31 October 2013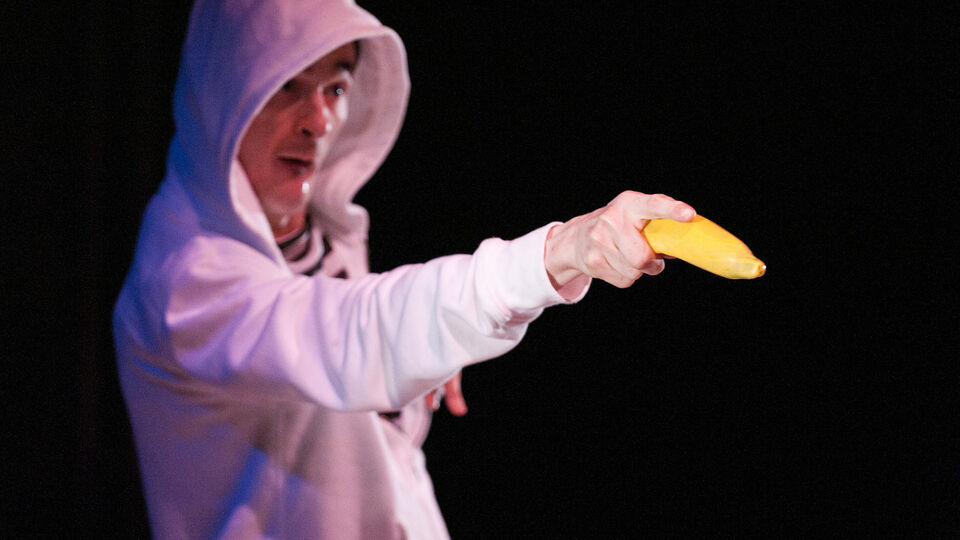 I recently took on the role of Facilitator, representing Spare Tyre for an external project. A number of participatory arts organisations were matched with groups from a variety of disability charities to create a short piece inspired by a line from Shakespeare. At the end of 4 weekly workshops all the pieces were put together to form a show performed to an audience at an arts venue.
Whilst there were a number of very positive aspects to the project (I worked with an excellent group of enthusiastic and committed participants who worked hard in a limited time to pull a show together), there were a number of things that I felt were very challenging and appeared to work from a 'Charity Model' of disability.
My over-arching concern with the project was the nature of it being product focused and not valuing the process. There was a very limited amount of time for process, 4 x 2hr sessions with a group I had never worked with before. There was little space for fun or to achieve any depth with the themes, or indeed with the needs, wants and artistic desires of the group. A longer lead in would have created a better product via a quality process.
However, the focus had to be on the product in order to get something together that would enable the group to maintain dignity and pride in themselves and their performance. Whilst the creative team was experienced in directing, they seemed inexperienced with my client group and the wider needs and implications of the participants involved.
Due to the focus being on the final product, the participant input and learning was drastically reduced, they were not empowered to raise themes of their own or given room to make discoveries. Combine this with what appeared to be a general attitude of an out-dated 'Charity Model' of Disability within the project, meant that I found a lot about it dissatisfactory.
The 'Charity Model' was emphasized by the compere of the show being unnecessarily non-disabled where any number of the participants could have been supported to compere the show.
The show was very visually 'owned' by non-disabled people. The presence of non-disabled people on stage, over controlling the creative output of disabled and learning disabled people was actually quite uncomfortable and at moments distressing. Personal power, self control and utilizing ones best skills and abilities is to be encouraged not trampled on (for example if an actor can't read, don't ask them to read!).
The social model or even the 'Affirmative Model' of disability (as Colin Cameron recently discussed in a Disability Arts Online article), really needs to be activated if this project is to have a future and make a difference – which is what the directors of the project want to do I'm sure.
I have worked within the disability arts scene for 20 years, it's sad to see that the Social Model, the progressive learnings and equality work that is now celebrated in the companies I work with in the main, is still only skimming the surface–do we really have so much work still to do, how can we encourage the changes we want, to filter down and enthuse newer disability naive companies and artists to take up the mantle of responsibility and true equality, whilst not crushing their enthusiasm or creativity, how can we be examples without being arrogant or patronising ourselves, how do we challenge discriminating attitudes that are wrapped up in 'good works'? 
Perhaps we are only a few steps into a long journey, but it is the right path and there are many committed artists and companies that are leading the way.... Thank goodness!