Blog
Gwanwyn Festival Wales 2014
Arti Prashar, Artistic Director
06 June 2014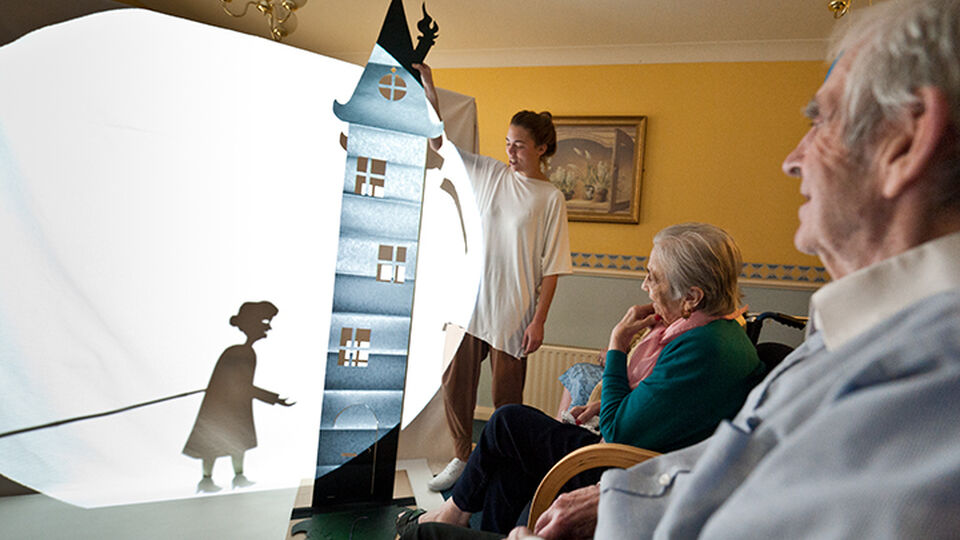 On tour with the Spare Tyre Once Upon A Time crew at The Gwanwyn Festival. It was about intimate spaces in care homes and the beautiful open spaces of the Gower peninsula. We were running workshops for older people with dementia and the story started by us saying, 'There was an old woman', and participants would shout out, 'That's me!'.
We said, 'She had a big house'.
They said, 'Oh, that's not me'.
We said, 'And she had loads of stuff'.
They said, 'That's me'.  
We had three weeks of the wonderful world of chaos and confusion, where inhibitions rule and people tell you exactly whats on their minds or on the tip of their tongues. Our projection of coloured circles produced the response, 'Are we here for an eye test this morning?'
We went on train journeys 'to over there–but keep it secret'. We danced and sang with people and they wept as they were overcome with emotion. They carefully folded our material and presented it to us as gifts. Our workshops were beautiful and magical, they were tense and frustrating, they changed from moment to moment as is the world of dementia and luckily we responded by being in the moment with them letting them lead us where ever they wanted to go.
I salute the care staff who spend 8 hours plus a day with them. I needed a break and needed the sea, the sky, the green, the wind, the rain to counter being indoors in confined spaces.
Doing things slowly seriously takes it out of you. We should value our care staff a lot more by saying thank you to them, by rewarding them with better pay, and show them how valued they are for all the personal care they administer more often than not with humour and much care.