Blog
ST40: Exploring the archive
Judith Scott, Volunteer
27 October 2017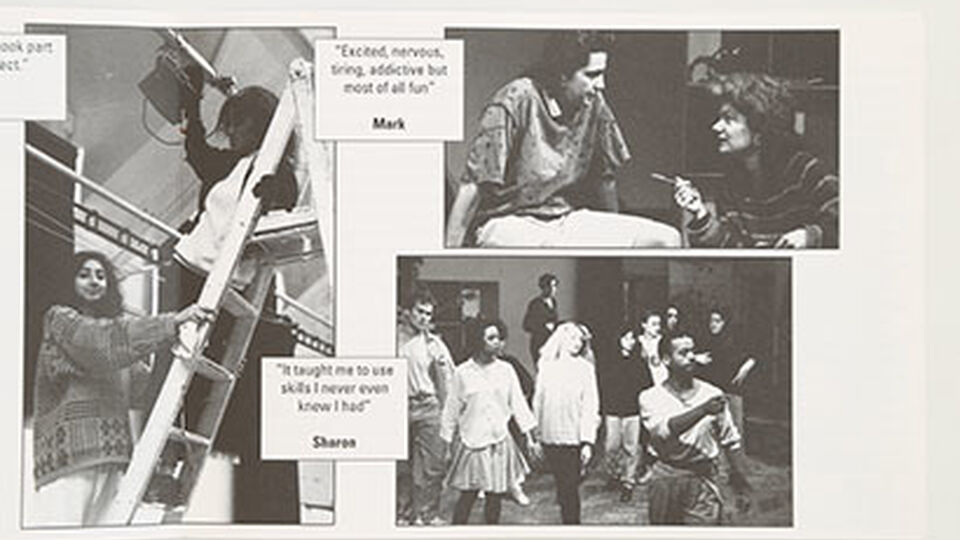 Recent Museum Studies graduate Judith Scott has been volunteering with us as we catalogue our archive for the ST40 project. She shares some of her discoveries here.
I became involved in Spare Tyre through their ST40 project because I was excited by their commitment to bring participatory theatre to marginalised groups, encouraging members to bring their own stories to light and to explore them through theatre productions. My background is working with people with a Visual Impairment and I recently qualified in Museum Studies, I was intrigued by Spare Tyre's work over the last 40 years in bringing to light the stories of under-represented groups, so I volunteered to help sort and catalogue the archives. Here are a couple of projects that have stuck with me -
Compete with your Feet (1991) was a co-working project with Spare Tyre and 4th Wall, supporting young people seeking work to develop a theatre production. The initial challenge to participants was to think of times you have had to compete–at school, at home and in life. Members were asked to bring their real-life experiences, good and bad, to share them, discuss them and to develop them into a composition. Scenes, songs, dance, whatever you wanted to use to express and present your story to the world. There was laughing, crying and lots of hard work in developing a script. Learning lines, song and dance routines, the rehearsals, always the rehearsals, until finally The Show! For three weeks the team took their show to various venues in East London and although some may never tread the boards again peoples lives were changed–as Jennis says '...I learned more in the eight weeks of this project than I did in a year at drama school', whilst Euphemia simply said 'The best thing that ever happened to me…'.
Participatory theatre and the use of personal narratives doesn't only benefit the young. As we know, Spare Tyre has worked with many groups over the years. Eight years after Compete with your Feet, they invited people over 60 to bring their personal stories to develop a new theatre show. Again it offered opportunities to tell a story, to develop a piece that reflected lived experiences and the chance to work together to tell it like it is–with a little song and dance to help along the way.
Annie Kilgour was the fifth of eight surviving children, brought up in the impoverished East End in the 1920s, she was determined to make a different life for herself. Through Spare Tyre she helped create the production Getting By, showing the struggles against poverty, family addiction and the lack of alternatives or opportunities, she, and many like her, experienced–not to mention the resourcefulness and the humour needed to survive. As well as helping create the production, she also took a role onstage, showing aspects of her early life even her family were unaware of and uncovered some of her own buried feelings. She explained how the work gave her new insight, having rarely spoken of her harsh upbringing prior to the project–'Playing my own mother brought it all back' and said it gave her new understanding of herself and her family history.