Blog
ST40: Cataloguing the Spare Tyre archive
Posted by East 15 Placement David on August 16, 2017
16 August 2017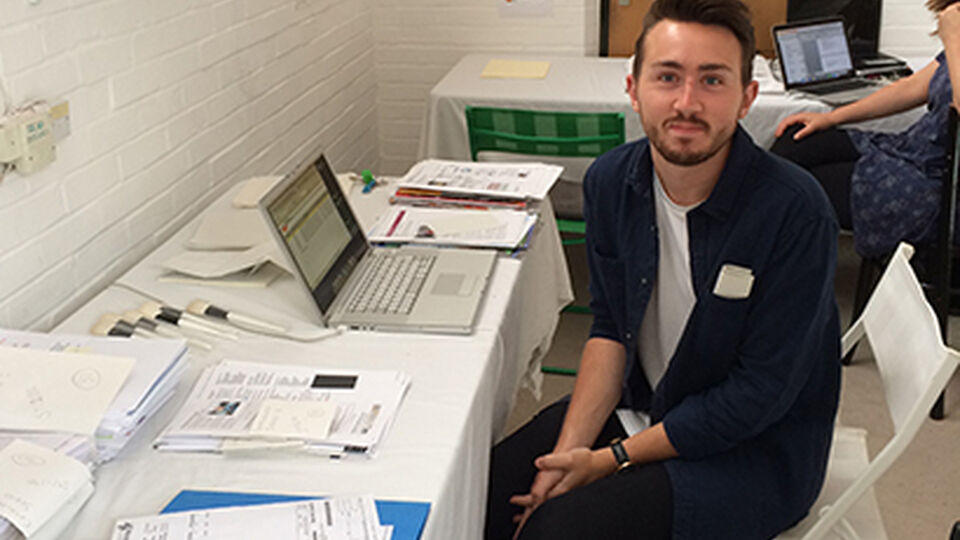 Second year Community Theatre and Acting student David Hughes has been with us on placement throughout the archiving process.
Over the last few weeks I have been working on the ST40 project helping Archivist Dr Ellie Pridgeon catalogue the boxes of archive material from Spare Tyre's 40-year history. The cataloguing of the archive has been fascinating as we uncover parts of Spare Tyre's history that had otherwise possibly been forgotten. So far we have found all types of items from flyers and posters to props used in Spare Tyre's performances.
I'm always intrigued to find audio and video cassettes - we can't play these in the office so are still waiting to uncover what is on the majority of these. We found a cassette last week labelled Baring the Weight, which was Spare Tyre's first production back in 1979. It will be interesting to see from this how Spare Tyre's performances have developed since then but also how in the months to come the company will use this recording to inspire future work.
As a potential future theatre maker I am particularly interested to read though the project files–I get to discover all the hard work and commitment that is involved in creating a project. These files detail Spare Tyre's innovative creative processbut also show the large change that participatory arts in this country has experienced. These files are a reminder of why the ST40 project is so significant as hopefully they can be made accessible and help others develop their own participatory work.
I was surprised by how many photographs we discovered, with hundreds still to be catalogued. I think what's nice to see in the photographs is how many of the same faces appear from project to project which I think is a testament to the strong ties between Spare Tyre and its participants. The photographs tell great stories–you can see how participants develop over the years, not just as performers but also as people. One of the photographs that stands out to me is from the Feeble Mindsproject which was a collaboration between inc.Theatre and HotPots. It shows a group of performers, some with learning disabilities and some 60+, and stands out to me as it shows the power in Spare Tyre's work in bringing members of the community together
It will be exciting to see what other parts of Spare Tyre's history we uncover in the coming weeks as the cataloguing continues…