Blog
Why Nights at the Circus should be on your 'must-see' list for Edinburgh Fringe
David Munns & Fauve Alice
16 July 2019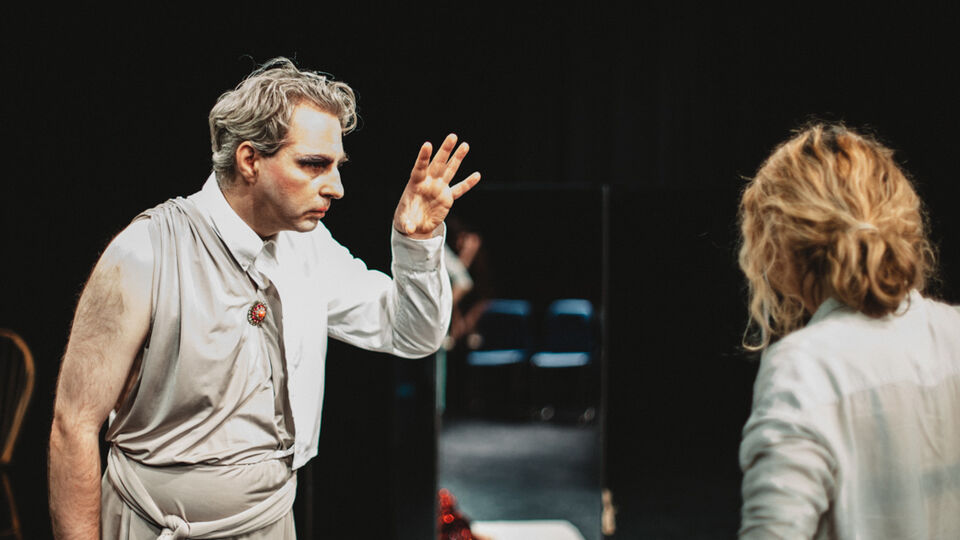 As we draw nearer to Edinburgh Fringe (now less than a month away!) we spoke to director Fauve Alice and performer David Munns about what makes Nights at the Circus such an un-missable show. 

Why should people come to see the show at Fringe?

David: I think disabled artists need better representation and it's important that we should be heard. Also I think people should come and see the show because it's got a sense of humour. It's also quite nocturnal and a bit creepy in places...

Fauve: There won't be anything else like Nights at the Circus. It's beautiful and sensual, it pushes the boundaries of performance. I think rather than creepy I'd describe it as haunting. The characters are emotionally haunted, they're a bit conflicted.

If you were to describe the show in one word, what would it be?

David: 'Carroll-esque'. I invented this word to describe the show specifically. It means anything that is similar to that of the stories found in say, Alice in Wonderland. Or anything by Lewis Carroll.

Fauve: I would say 'mesmerising'.


What will people feel after seeing the show?

David: I'm not sure what I want people to feel, I want everyone to feel something different.

Fauve: The audience is allowed to react and respond however they want. We're just expressing what we need to on stage.

David: It's like pistachio nuts, everyone feels differently about those.
 

What else is important for people to know about the show?

David: I think the show is very much about freedom, in a time when freedom is either being questioned or challenged. So I think we need to give people a sense of freedom through the show.

Fauve: Nights at the Circus is a space for different and new stories. The show invites people to look at themselves again. If you're performing your freedom, it makes people question their freedom.

David: It should make them think, what does freedom actually mean?
Nights at the Circus will be at ZOO Playground from 13–17 & 19–24 August, 3.15pm. Can't make it to Edinburgh? Come to the London preview in our home of The Albany on Friday 9 August, 7pm