Blog
Picture Me Review
Vicky Lee, Company of Artists
21 June 2013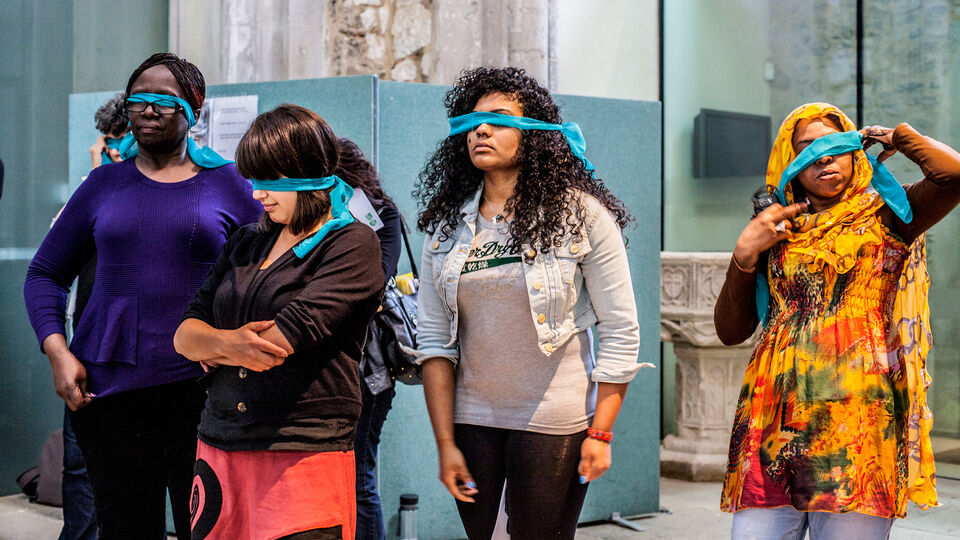 In the intense speedy atmosphere of the City of London, in the busy business time of day I stepped into a space of reconciliation and peace.
Here in a bomb-damaged church, a space created hundreds of years ago and transformed into a safe haven, we came to see Picture Me.
There was a secrecy to the invitation: no tickets for sale, no-one not invited could be here. We entered through a beautiful summer garden into light and glass lit also by the stained glass image of St Ethelburga.
We were here to witness the transformative work of women who through their own suffering and pain created stories to heal their spirit and move onwards into living free souls.
We gazed through a turquoise gauze to view the world from a different perspective. Painful memories and suffering can lie like undigested lumps of stone. But here, they were transformed into stories through word and dance, they were lightened and transformed through fluid movement lifting our spirit.
The world can be made beautiful, redemption is possible, the spirit can be free. All can be reconciled. Inner and outer peace is possible.
Were these pieces only a few minutes each? They seemed to be taking place in Cosmic Time…
Picture Me took place on Friday 14th June 2013 at St Ethelburga's Centre for Reconciliation and Peace. Find out more about the event here.