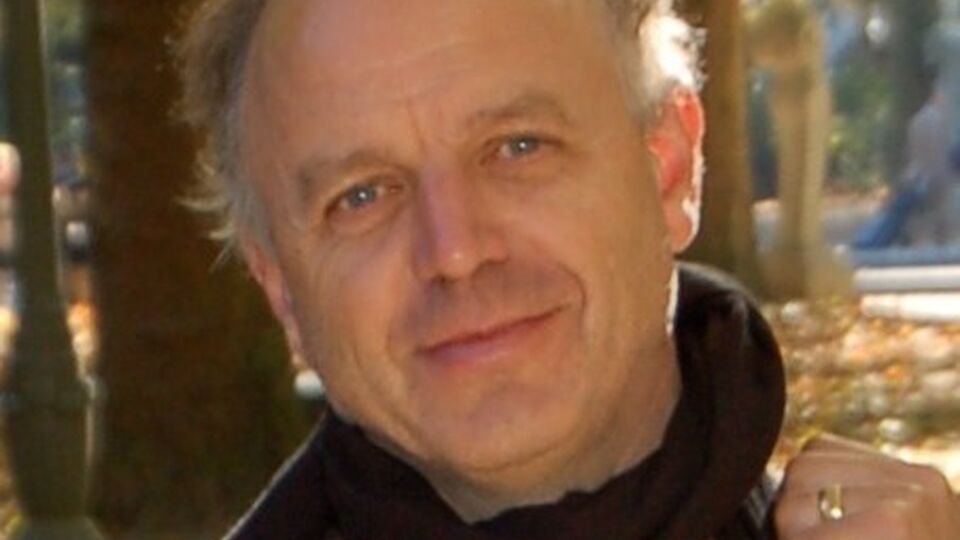 My name is David Slater. 
I was going to go and be a forester and work in wild areas and somehow I ended up in the theatre school training as a theatre director. As a theatre maker I, you know, it's been an extraordinary privilege to have worked within the same 5 square miles for all of my working life. For, over 40 years has been really special. 
I don't even know whether I now like to use the term "participatory arts." A lot of people are artists. Perhaps everyone is creative or has that creative possibility. The way that we live in the world, the way we have the, survive and negotiate. You need always to duck and dive or find ways to move from one way to another in creative ways but I think within any community there are people who are artists. They have that way of being in the world and I think life, circumstances sometimes inhibit that from happening. So you go into any neighbourhood there will be umm artists but maybe not at a first glance all that visible. 
Participatory arts is for me a conversation between people in communities and I think it is most interesting when it's umm an encounter between people who have very different backgrounds and life experiences. Umm have arrived in the city from different spaces and places and connect and uhh somehow it's in that point of encounter that lots of exciting things begin to spark and shape. 
Spare Tyre are very much a huge kind of marker on the landscape You know I think if you work within this territory you have your reference points umm and you are in some way looking out for each other? You are always negotiating that relationship from afar because it's umm it, we are all doing the same thing with the same passion, with the same objectives, just being nourished by each others work and certainly nourished by uh the work of Spare Tyre. So you know the the current work The Garden, immersive work for people living with dementia is uh beautiful, exciting work. And necessary I think it's that. I think that it's so often easy to side line this work but it's, it's fundamentally a part of the health of of any society. You need this kind of work happening. 
Somebody was saying to me once umm 'it's quite simple really' she said she said 'all that we need is to be recognised and understood' and I think that is what Spare Tyre does and companies like Spare Tyre. It's creating the space for people to be recognised and within the company of others that, people use the phrase like 'I'm back. I'm me again.' Finding that sense of who you are but not only that sense of who you are but who you are in connection to other people. It allows people to be written back into the script. They become players and have agency and control of their lives.  
We need to sing, we need to dance, we need to tell the stories. We need to try and understand the complexity of what it means to be human. It frustrates me when there is so much pressure now for arts organisations such as Spare Tyre, such as Entelechy Arts to demonstrate the impact of the work. Why should we need to demonstrate? We have danced since the beginning of time. We're human. We dance, we tell stories. It, it's why one of the reasons you know, how we function on the on the planet. I think there's a profound and fundamental need for people to create so that's why Spare Tyre needs to exist.  
I think that my generation, us nearly old people, we had a wonderful time because we could make it up as we went along. And I now think it must be really really difficult for graduates of applied theatre courses, applied arts courses because it's much more prescriptive I sense and ultimately I think that the skills you need are the confidence to make it up as you go along. There's a phrase that John Lennon used towards the end of his life. He talked about the beauty of nothing in particular kind of moments. Just kind of when you are doing the ironing or the washing up, or just walking through… trees on your own or with other people. And a lot of the best work I now do is just allowing people to just do ordinary stuff in the company of each other and not to have the drive to make a piece of verbatim theatre that's going to… or this or that because then what happens if people are spending time doing ordinary stuff? Maybe an idea pops up and then maybe that idea begins to grow and different people find that they have the skills but maybe also somebody who has had more formal training as an artist has the skills and then together something really beautiful and relevant and full of meaning grows.  
… what frightens me is that we forget the space that it just takes for things to be seen and recognised and to be helped to grow and be nurtured. 
David is the founder of Entelechy Arts, a participatory arts organisation also based, like us, in the Albany. Entelechy works with marginalised communities and individuals, bringing them together through participatory arts practice.  

David talked to us about how participatory arts is perceived by the wider arts sector, and how elements of this practice is embedded into human nature.