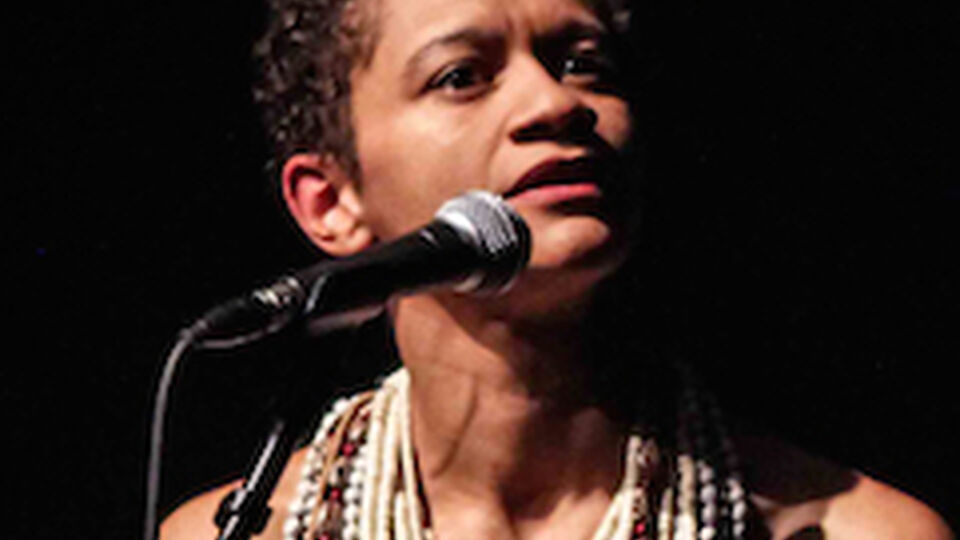 Mojisola Adebayo
I am a theatre artist and I dip my toes into all kinds of part of acts, I'm a performer playwright, producer, director, facilitator, teacher, blablabla…
 
I got really lucky and met somebody called Augosto Boal and I ended up doing training with him and ended up working with him and 'Theatre of the Oppressed' or 'Theatre for Social Change'… and so that kind of sent me on a whole journey and I got really really excited about the possibility of theatre that is kind of directly relevant to peoples' lives and theatre that is inclusive and accessible and um that doesn't necessarily distinguish between professional and community. So that's… yeah... so in a way, I, I became a theatre maker through resistance to what I hated.

I think Spare Tyre first of all has got an amazing history in terms of kind of the feminist movement, in terms of women, and has always been concerned with uh... those who are the least advantaged and beginning with women and kind of um working through different groups. And I like the fact that Spare tyre hasn't stayed in one place and, but has evolved according to need and um… you know… sort of... maybe 15 years ago it was quite unusual for different kinds of uh, kind of marginalised community groups to interact with each other. It was kind of fairly standard, you know I used to work for Clean Break, for example, the ex-offenders, ex-prisoners, Cardboard Citizens, homeless people, etcetera. And while that's all great, Spare tyre is amazing in bringing together people with learning difficulties and people who are elders in the same space and having that interaction which I think it's really exciting and really unique.

Spare tyre has been one of the innovators of that kind of work that isn't solely about one particular community of interest or experience. Um... and in itself, it's been quite controversial to um... to look at what um… a young adult with a learning disability and a highly educated 88 year old women might having common umm... but there's are a lot that people having common in terms of their lived experience of being patronised, or being left to the side or feeling quite lonely or lots of lots of things that people might, might having common that... and their experiences might be enriched by that kind of connection. It's quite rare that kind of works happens. Umm but I think it's really important. Um because what they does then is it one starts then to question not whether the learning disability itself is the problem but whether the way, for example when you put learning disabled young man and an 88 year old very educated women, you start to think about not just questions about identity but things like pace, like why does the world have to operate at a certain kind of consumerist high pace level when both somebody with a learning disability and somebody who was 88 might need to have the world work as a slightly different pace you know, so it makes us think more socially rather than kind of umm… putting the problem on that one individual or that one community group.

Theatre is the art of being a human being. It's just something that Boal talked about, that theatre is the art about human relationships, human being's and space. All you need for theatre is people, and some space, and some time, more than any other art form it deals with relationships and fundamentally human beings are social creatures. Theatre itself it is about how we participate in the world.

Mojisola is an actor, playwright director, producer and teacher. Recently she has been working on a new performance called 'STARS'. She trained as a theatre artist with Augusto Boal, a drama theorist and political activist who founded the 'Theatre of the Oppressed'. 
Mojisola talked to us about how Spare Tyre's work has been innovating, and how theatre is the art of human relationships.