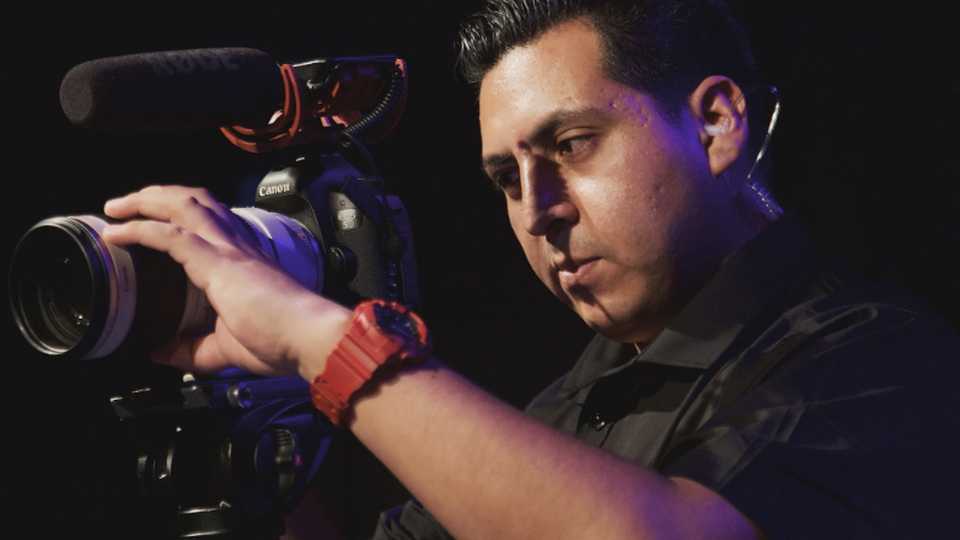 My name is Victor Rios.
 
Before Spare Tyre I was mainly doing facilitation. So uhh doing workshops with people who were from refugee and migrant backgrounds uhh I was a, still sort of learning, I already became a film maker so I was already doing videos but it was still sort of like … in the middle of my journey and umm I was performing quite a lot, doing stuff with the Paper Project which is a collected group of artists from migrant and refugee backgrounds.

If you go to the internet and you put participatory arts, you will find some sort of subjects and read and written sort of work and stuff but you won't find as much ermm as for example media content. Nowadays video, that's why I love video because I think video can explain a whole, you know, the whole ethos of a company in only two minutes. So in terms of participatory arts there is no, there is not much, there's very few. And sometimes when people come across with participatory arts like I did in the past, I had no clue what it was until I actually managed to be in an environment like Spare Tyre. So I think the mission of Spare Tyre has been doing that and its great but I think we need much more and I, … it's not about Spare Tyre. I think it's about in general. We need so much more inclusion from people being able to make it accessible as media, as written, as different sort of aspects so people can understand importance and sort of focus in that way that people can easily access by just clicking a button.

Spare Tyre has a great impact on people. One of the things that they done is with Company of Artists, they bring not just people, you know with learning disabilities or disabilities, they do also bring elderly. They do bring a whole lot of, you know, a diverse group of people and they always push to make it something very professional. You know and not… a bit further than just a community project and I think that's what I love about it.

The first time I worked with people with learning disabilities, with the large group … and ermm it was challenging but at the same time it was amazing because every time I was leaving I was thinking like "ohh this was amazing" and and although I was still sort of ermm I wouldn't say I was afraid but it's a bit ermm nervous about how it's going to be. "How are we going to do it?" But somehow that dragged me more energy to come back the next time and to find out how to do it better. You know find out what is it the participants want? You know and sometimes they didn't want to be in front of the cameras. They wanted…  don't even being the cameras. So I started giving them the cameras so they can start filming with me and then somehow this sort of, they felt empowered they felt like they had something to do and it was just amazing for me because you see them growing in a sense of skilful ermm and and and that was great.

This energy that we were building with the people was so contagious that they wanted to be in it. They really wanted, and they were looking forward every time we were coming back and we had a successful two short films and I just found out that one of the short films ermm accepted accepted for a festival. We're looking to push that and hopefully we can do much more eventually in the future.

Using participatory arts, which I think is now is important, I was able to enable them to have control over the story in something that I could not do back when I was acting. So I think that if we compare I think that's absolutely how important you know the participatory approach ermm has a lot of value. As a person who has actually running the project, the participants are important. The people who were behind, if there was people you know doing the whatever sets or music it all sort of feeds into something together looking into of of course a subject but all these ideas, giving opportunity to people to have opinion and to sort of also taking risk by going with opinions. Trying them. In performances they tend to just, you know, there's one director, there is uhh there is one script, there's there's there's one writer, this this is how it goes and people just follow that recipe but I think in participatory arts becomes a buffet of different ingredients and that's lovely because everyone can chip in some spices here, some spices there and then eventually we end up with a new dish that no one came up with and that is, becomes something tasteful and delicious.
Victor began working with us as an intern in 2011. Since setting up his own filmmaking company, he has become one of our regular photographers and filmmakers. Recently he has worked with us as a workshop facilitator and assistant director, and became one of our Associate Artists in 2018.
 
Victor spoke to us about what he has learned from Spare Tyre, and how participatory arts can influence other art forms.