Projects
Together
October 2017 – January 2023
London
Spare Tyre is resident at Haynes Dementia Hub, as part of a ground-breaking new programme of arts activities for people living with dementias in the London Borough of Haringey.
Every week, we visit the Haynes Centre, a specialist dementia hub providing daytime services to people living with dementias.
As dementia arts specialists, we lead participatory arts activities throughout the day, helping embed creativity into the Centre's regular practice.
Funded by City Bridge Trust and led by Jacksons Lane, other project partners are Homes for Haringey, Haringey Dementia Hub, and Haringey Public Health.
Spare Tyre is a leader in the field of dementia arts, bringing a wealth of experience of engaging with people living with dementias and their carers.

This project began October 2017 and continues until 2023.  
During the COVID-19 pandemic, we adapted Together into a new initiative–Together Through Your Letterbox.
This project is all about bringing people from different sectors together, putting wellbeing at the heart of everything we do, and working at a very local level. The arts have the power to make these connections, creating real social change. We've worked with people with dementia and carers since 2010, and this project is another exciting step forward for us in developing this work.

Arti Prashar, former Spare Tyre Artistic Director
Year 5, 2022–23 update
After 4 years of leading the Together project, artist and facilitator Lisa Muten has handed over the reins to a new group of facilitators (read her blog about her experiences here). We're excited to introduce you to the fantastic artists who have taken over, each bringing their own varied practices and experiences: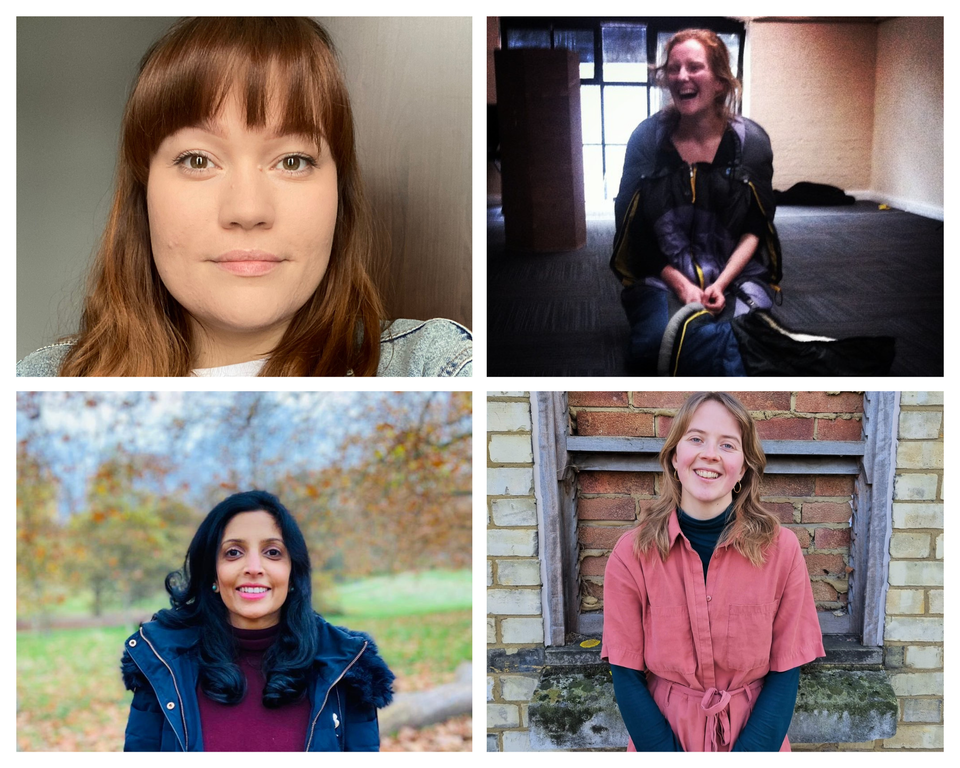 I love working with people with dementia because of the unpredictability, the creativity, the sporadic wisdom, and the honesty

Daisy Barrett-Nash
Daisy Barrett-Nash is a freelance poet, performer and community arts practitioner. She works with a wide range of community groups but her passion lies at two ends of the spectrum–with elders and with young people. Daisy works to integrate these groups, creating intergenerational connections in her projects where possible. Daisy is currently the resident artist with Writers At Play, a friends of Equal Arts group for 55+, and Director at Croydon Youth Theatre Organisation. 
Flavia Bertram is a theatre maker, multi-disciplinary artist and producer with roots in physical theatre, clown, and participatory processes. She hosts performances, workshops, and conversations, and makes objects that seek to invigorate the imagination and deepen interconnections between humxns and the world we inhabit. Her creative practice is grounded in a commitment to play, reciprocity, and intersectional ecological justice. 
Sensory arts brings so much joy and positive interaction, it opens up a whole new world and great for all participants to be included and part of a team

Harshita Patel
Sophie Holland is a freelance performer, maker, and facilitator. Sophie first met Spare Tyre through the Tyre Change programme in Summer 2021, and has since worked with us on We Will Be Happy Here, Ghyama Arts, and Covid Cafes. She returns to facilitate at the Haynes after pairing with Lisa last earlier in the year. 

Harshita Patel is a creative facilitator at Knots Arts – A creative space to untangle social knots and delivers sensory arts and drama to an Autism Girls Group. She sees similar synergies and approach when working with people with Dementia. Harshita is a parent carer of a teenager with complex needs and a Special Educational Needs and disability (SEND) consultant. She has lived experience of the challenges facing parents/carers of people with Autism, ADHD, Sensory Processing and Complex needs. Harshita was part of the Summer 2021 cohort of Tyre Change practitioners, and we're delighted to have her onboard at Haynes.