Blog
How Are We Looking Now? Q&A with Clair Chapwell
Clair Chapwell & Sarah Dormer
15 March 2019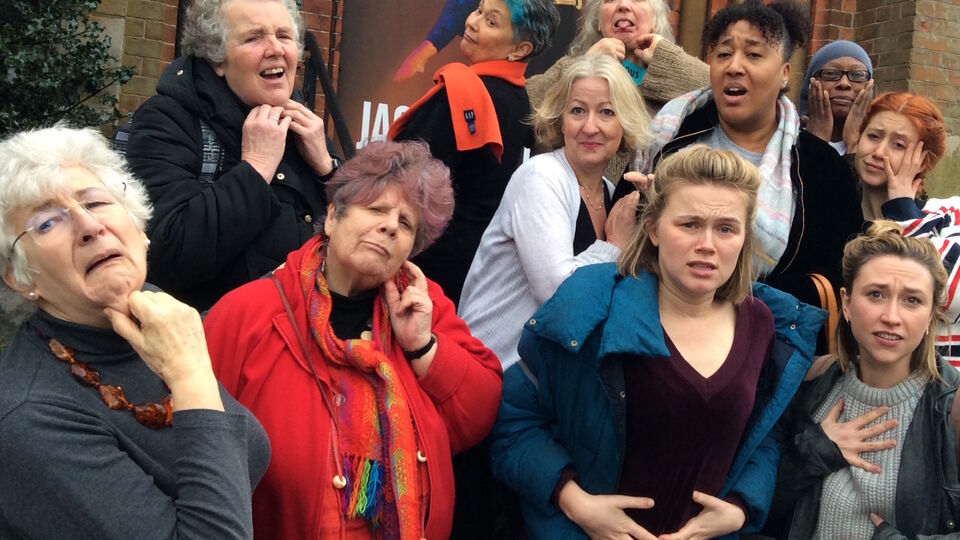 In 1978 Clair Chapwell read Susie Orbach's 'Fat is a Feminist Issue', a book that changed not just her life but the lives of  many other women. This she realised after posting an advertisement in "Time Out"'s Theatre Board to see if anyone else was interested in turning this text about women's relationship with food into a play, she received over 80 responses. 
With a group of 8 women she produced 'Baring the Weight' in 1979. This became the first ever show by Spare Tyre. In the following years Clair along with Harriet and Katina (together the three Spare Tyre founders) continued creating issue-based songs and theatre sketches around important issues to them and to other women. 
40 years on from 1979, 'Baring the Weight' is being revived by Clair, but a lot has changed over the decades. How is life different for women now compared to then? What has improved and what has worsened? Clair explores this in her new show 'Extreme Makeover Mum', which she devised with an intergenerational group of women.  
So my first question Clair is, why do you think there were so many women eager to participate in the first show in 1979? 
First can I say thanks Spare Tyre for asking me to revive Baring the Weight! (BTW) What a treat it is proving to be.  
I would say women's body image is like the weather. Always with us. The first line from a song from Spare Tyre's second show went: 
"If the earth flooded and the trees fell down/ and the Post Office Tower burnt to the ground  We'd still be saying: 'how do I look?'" 
Susie's book was an eye opener for me and so many women. The opportunity to meet and play with the ideas using theatre was a joyous thing. Susie had real doubts that there was theatrical possibility in it – she could see a film, television – but theatre? But it worked, was very powerful and spoke to our audience, most importantly. 
What did you find most surprising during the first run of Baring the Weight? 
I believe we thought it might continue for a few months. It went on for a year. And on, and on and on.  It was a joy to perform. So much fun! We had discussions at the end of every show and decided that we'd offer to start compulsive eating groups as advocated by the book in different areas. We ended up starting literally dozens, and one of the women who came to the first workshop for this project was in one of those compulsive eating groups. 
What motivated you to create the new show, Extreme Makeover Mum? 
I re-read BTW and thought – hm – yes, well, it was certainly powerful for its time. But so dated! Pre social media!  No email, smartphones, internet – nothing. Wouldn't it be great to have something contemporary alongside it? So I spoke with Lynette Shanbury, (former Spare Tyre Executive Director) about it at length and she thought that was a great idea. I wanted to get the same random collection of women as I did with Time Out. Our group is indeed random – aged 25-75, coming from different places, backgrounds, cultures. What surprised me by the workshops is there was the same feelings of rage about body image but also humour. I decided it had to have the same qualities as the first show: outrageousness, humour and music. It's actually a very heavy topic so you can't send people out of the theatre feeling terrible. Leave 'em laughing. 
What do you feel are the key differences in challenges faced by women in to 2019 to 1979? 
I was 26 when I wrote to Susie Orbach and I'm 66. I'm so much happier now and feel lucky to be my age. I would say that women today IN THEORY are a lot better off  – but still have to look fabulous and looking fabulous is getting seriously expensive and time consuming.  Just by looking at the internet some young women have decided they need plastic surgery and waxing – everywhere.  How much do you pay attention to all that as a young woman? And how much are you able to say, it's fine, I'm ok? I have to tell you we have had many moments where the older women are just staring at the younger women in shock.  
I'm very pleased to have an assistant director who is in her 20s. Would I have found my way to labioplasty, contouring and the Kardashians without her? Who knows?  
Despite everything, the show, as we wanted, is funny, musical, and a triumphant positive shout for women.  And thanks again Spare Tyre. 
We are delighted to support these two shows, which will be showcased at New Diorama Theatre (NDT)'s Two Night Stand programme in our role as NDT's Associate Company, and at Theatro Technis over various dates during March–April 2019.