Blog
Signal Fires: Beyond The Shield - programme
John Holmes, Executive Director (Joint CEO)
03 November 2020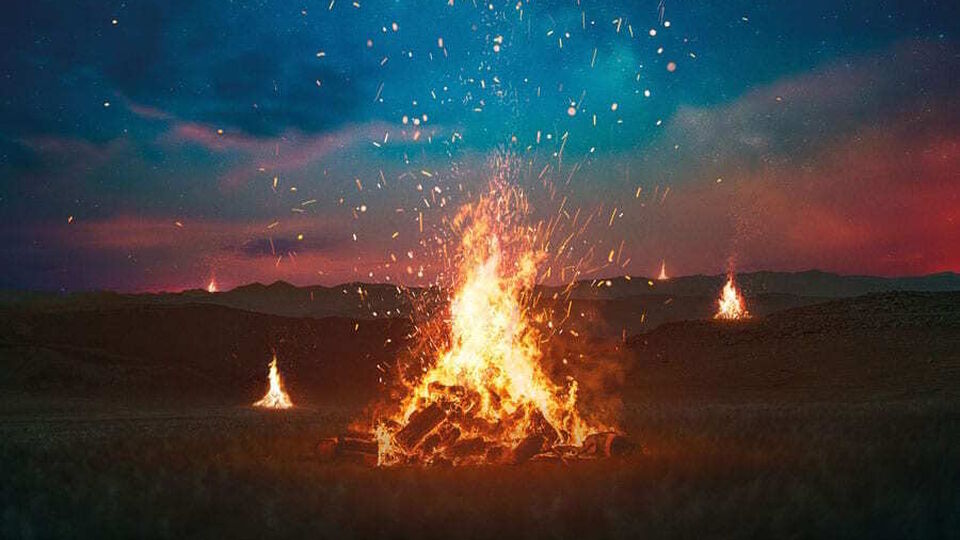 Signal Fires
Reserve you space to watch the show.
For an impenetrable shield, stand inside yourself (Thoreau) 
An evening of short digital performances as part of Signal Fires, a national festival.  
All through time and across the world 
Signal Fires have been lit  
to guide people home,  
to warn of danger,  
to offer safety,  
send a warning,  
share the news. 
A story needs two things – 
a teller and a listener 
All through time and all across the world travelling players have brought stories, music, dance and drama to firesides – 
telling tales  
of homecomings,  
of impossible dangers faced down  
and those yet to come,  
of havens sought and found,  
all helping the tellers and the listeners 
make sense of the world. 
Tell Your Art Everything 
(spoiler: It already knows) 
Signal Fires - like touring theatre - have provided a reassuring, yet never quite controllable space to share news,  
Spread gossip and make magic.  
A place to be transported and transformed and to share experiences together.  
They have created and shared a conversation about what it means to be alive. 

This year touring  
and gathering, swapping song 
have been difficult
and we're missing the sense of the live.  
But we're theatre-makers  
and nothing stops the stories 
bubbling in our heads.  
We just need to make sure  
they can be heard. 

What was left in the box when Pandora opened it? 
Hope. 
Running Order
Part One
1. Genetic Moo Microworld At Home
2. David Munns Introduction
3. Amy Ann Kemp and Astrid Hilne Granny and the Virus
4. Tom Edward Kane and Monica Vinogly I Like It
5. Tim Heath The Clapham Correspondent (part one)
6. Christine Thompson Lockdown May 2020
7. Emily Ling Williams Under the Knife
8. Ellie Mason Ordinary Woman (parts one and two)
9. David Munns Magic
INTERVAL Genetic Moo Microworld at Home
Part Two
1. Jo Paul Each and Every One (film)
2. Rebecca Manson Jones Oxygen
3. Aisling Gallagher Slam

4. Tamara Stein and Esther Hopkins You Can't Hold Me Now
5. Ellie Mason Ordinary Woman (part three)
6. Alice Gallo Hi, Mom
7. Tim Heath The Clapham Correspondent (part two)
8. David Munns Goodbye
Production Credits
Director Rebecca Manson Jones
Digital Artists Genetic Moo
Production Manager Helen Mugridge

Associate Director Fauve Alice
BSL interpretor Russell Aldersson
Closed captions Rose Chorlton, John Holmes
With thanks to The Albany, Maria Cole, Paul Johnson, Rebecca Pattrick, Solace Women's Aid
For Spare Tyre
Artistic Director (Joint CEO) Rebecca Manson Jones
Executive Director (Joint CEO) John Holmes
General Manager Rose Chorlton
Microworld at Home

Genetic Moo
Our Associate Artists Genetic Moo have adapted their Microworld At Home to create tonight's digital campfire.

Microworlds are immersive rooms full of interactive art, dynamic and ever-changing. Sensors create a fully responsive and intuitive environment.
Visit Genetic Moo's website to learn more and watch other broadcasts.
Each and Every One

Jo Paul
In March 2020, Spare Tyre Associate Artists were due to gather for a Thinking Space weekend of creativity and collaboration. This was cancelled due to the Coronavirus pandemic, but instead we asked our Associates to use the time to work on creative responses to lockdown.
This was the seed for Jo Paul's artwork Each and Every One, which features in film version after the interval in our Signal Fire.
Jo says, 
"On March 5th 2020 the first death as a result of COVID-19 was recorded in the UK. Each person who dies as a result of the virus is a life that matters. Shouldn't each be marked and memorialised? This durational work goes a small way towards doing that. Every thread stretched across the canvas and wrapped around a nail represents a person that died. A friend of mine is remembered amongst the threads.
I continued making the work until the 5th of June 2020, three months after the first UK death. The official UK death toll on that day was 40,261–though it was thought to be much higher and continues to rise.
The work is heavy and thick with thread, the canvas frame is bowing and broken. The continuous thread is 13 miles long."  
Support our work
Spare Tyre is an artist-led participatory theatre company that seeks to reflect society, challenge its prejudices and make life equal. Like all theatre companies, lockdown presents a challenge as we cannot perform to audiences live in person. Please consider supporting future projects by donating.