Watch+listen
The Moving Play - Behind the scenes film
February 2019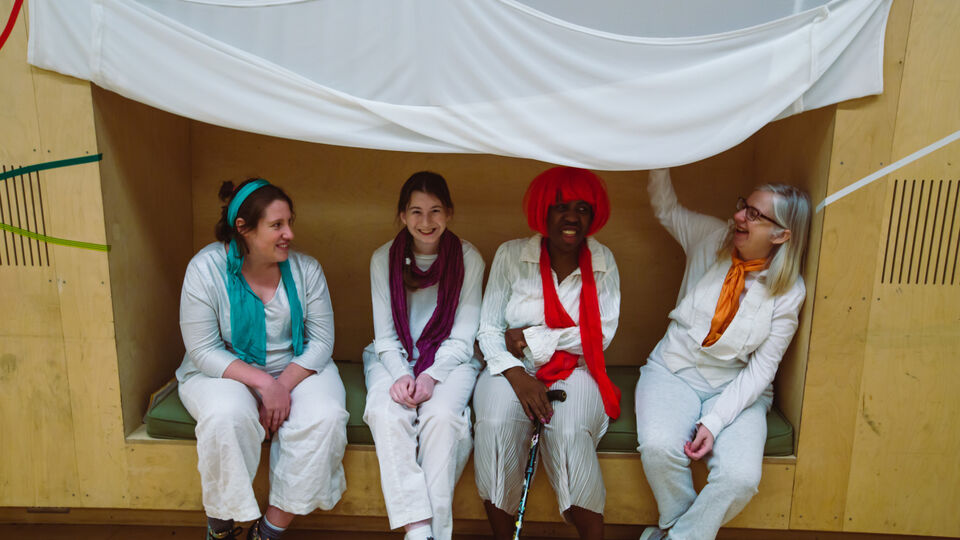 Labake: (Whispers) I have a secret 
Martin: The Moving Play, it's really interesting to work with all the other guys in the play. It's also interesting to see what other inputs people input into the play and different ideas that people have got 
Holly: One of the key parts of this Community Associate Companies (CAC) programme is the focus on partnership and collaboration, so we don't just partner with er the group or the company that we're gonna be working with but also invite a lead artist company to come in as well and partner. So it becomes a three-way partnership.  
Nathalie: Being the Associate Community Company at Bush Theatre has really enabled the company to create a really strong identity. And it's really laid the foundation for the (This New Ground) Collective to continue making really ambitious and bold and relevant work.  
(Arti): I loved the beginning of when that slowly unfolded in that cubby hole, y'know that kiss,  
(Talking over) 
Arti: What? 
(Martin): It's like a confession, a confession box or something, I like that 
Arti: It is like a confession box, but that's all in the themes that we're looking at really - confession. Cos that's part of secrets and revealing things isn't it, and hiding 
(Talking over) 
(Faisal): Love. There is a lot of love in there. The kissing scene that I do with Kelly. Well the inspiration came from when we did the individual scene, you know in the small cubby hole, the shadows yeah. So I did a little scene with two deers kissing then going their separate ways then coming back together. Arti and other people liked it so they said would you like to do, would you like to do it again with somebody. Kelly stepped up and said yeah ok and then we did it behind the, behind the cloth.  
Kelly: I feel excited about making shadows and it's fun, it's easy 
Faisal: I mean love is all around us, not just humans, but animals love each other as well. 
Richie: Cos I think, cos we did, we weren't, and like we said yeah about Jellyfish yeah, that we're gonna do something different. And then we just, we just come up with this thing innit, all this stuff with Arti and that and we just do our own, our own Jellyfish version, our own one. When we go upstairs I move around a lot, Arti always says 'Richie stay still' I said I can't stay still cos I like, cos we do a lot of things innit with like, cos when you come in you say do this like activity, do this exercise. And we like do clapping, clicking that kind of stuff. It's moving around innit.  
Labake: Yeah Nicholas when he did the picture, the moving pictures, and um, we had to go and hide in that, that little area and they had his, you could see his face. That was, I liked that. 
Catherine: I think picture um, that (…) put up, she put sticky red, sticky sellotape, she put down (…) and um hiding or looking round. 
Tara: I was just telling someone my secret. And I had a secret. Moving around, talking about secrets and that. I liked doing that bit, I like that. Cos I don't do it here, I do it at home sometimes. Yeah. 
Martin: I wanted to do a show closer to the audience so they feel like they're part of it. Cos if they're far away from us it doesn't feel like they're part of the show. 
(Faisal) Anyone can sit down and watch a show. There's, there's there's very few shows where audience can actually join in, without ruining the story.  
(Labake) Cos I think that's why it was really good that we put relationships in there because… me and my friends, we go through, when we try and have a relationship, we feel like somebody's always telling us what we can't do and not seeing what we can do. And not seeing that we can have a relationship. But um, but it's difficult, but we get through it and if people can't accept that then, they're the ones that maybe they've got the learning disability.  
(Singing) 
(Nathalie) It's been great seeing participants, Kelly for example who's really come out of her shell and able to express how she feels and be assertive with, kind of, putting her points of view across that's been really amazing to watch her grow like that and also, um… being really, it's been really exciting to see for example Drew, who's really engaged with some of the technical aspects of the process so being behind the camera for example he's really enjoyed.  
(Arti) So all those themes are still there, all those themes are still there about, and how we bring in things around, what is this reveal that we're going to do? There's a lot of stuff hidden inside us and then how are we gently gonna do a reveal? 
Richie: Arti. I think she's a bit crazy sometimes! I think she's a bit crazy but yeah she's alright. 
Kelly: I like when she, explains what I have to do, then I know what I'm doing. It makes me feel easy. 
Martin: Arti she's cool, she's good to work with. She's a laugh, she's jokey sometimes. She can be furious as well 
Faisal: She's got her ideas but she doesn't, she isn't fixated on it. Like if I came up with an idea, she wouldn't go 'oh no no no no no', we'd do it my way. You know what I mean? So she, she... She's nice like that and, umm, hope to work with her more.
Nathalie: This process of being Associate Company at the Bush and working with Spare Tyre has, um, enabled us as a company to create a really strong identity for the future. Which will set the tone for the future work that we make, and Arti and Spare Tyre have really helped, um, focus us as a company and decide where we want to head in the future. So what do we want to do? We started as a choir and now we've started making theatre and the possibilities are now endless. 
In our role as  Bush Theatre's Lead Artists for 2018, we collaborated with a group of learning disabled adults who are part of the This New Ground collective to develop their drama skills. In November 2018 we showcased The Moving Play a new piece of theatre devised by the group, this film talks about how it was made!