Events
Signal Fires: Beyond the Shield
until Sunday 29 November 2020
Online
Free writing workshop
Thursday 8 October
Free writing workshop
Tuesday 13 October, 2020
Signal Fires: Beyond the Shield
Wednesday 4 November
Address
Online–Zoom and Spare Tyre YouTube
View map
Online
until Sunday 29 November 2020
Times
You choose the time
Online storytelling created by professional artists and everyday writers as part of Signal Fires, a national festival of touring theatre. 
For an impenetrable shield, stand inside yourself

Henry David Thoreau
All through time and across the world 
Signal Fires have been lit  
to guide people home 
to warn of danger  
to offer safety  
to send a message  
to share the news. 

As part of this Autumn's Signal Fires festival celebrating touring theatre, we sparked up our specially-commissioned digital Signal Fire created by Associate Artists Genetic Moo. 

The live show took place on Wednesday 4 November and is available to watch online until Sunday 29 November. Register for a ticket to access the performance.
Bring your cosiest jumper, a cushion or two, cocoa or a brandy and be transported to the fireside, where our writers share lockdown experiences of humour, sadness, friendship and conflict.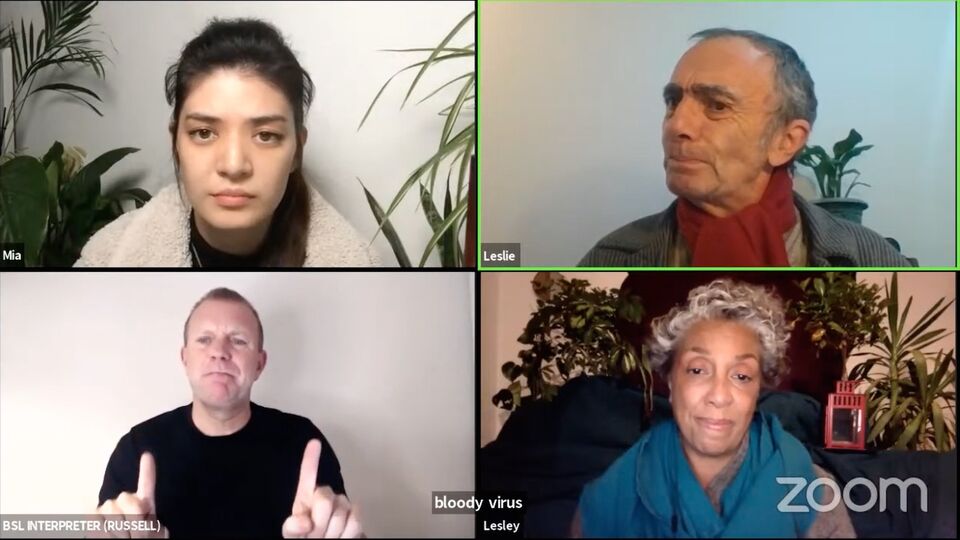 The story-makers of 2020 
As a participatory theatre company, we make experiences including the talents of professional artists and people exploring their everyday creativity. For our Signal Fire we looked for the story-makers of 2020, who have turned to story/song or music during lockdown to help them get through.   
We were especially interested in the story-makers for whom Covid has meant shielding, in the people who were shielding before lockdown and people for whom shielding is a new and ongoing reality.  
Nine submissions feature, some by professional artists, others by everyday writers who contributed new works. They include three-minute short plays, monologues and poems – contemporary stories about contemporary times, reflecting the realities of the last eight months. 
There are also contributions from our Associate Artists Ellie Mason and David Munns, new music from Tamara Stein and Esther Hopkins, and a journey into a Microworld at Home with Genetic Moo.
Humour is hope's companion in arms. It is not brash, it is not cheap, it is not heartless. Among other things I think humour is a shield, a weapon, a survival kit.

Ogden Nash
Watch You Can't Hold Me Now by Tamara Stein and Esther Hopkins
Want to find out more? Listen to this short writing workshop
Curious about an evening of three-minute plays?  
Our Artistic Director, Rebecca Manson Jones, recorded this online workshop to help ignite some ideas, tricks and tips for creating a complete piece for three minutes. We've edited out the participants' contributions for privacy reasons, and we hope it's a useful introduction if you're keen to start writing your own work. 
Signal Fires: Beyond The Shield creative writing workshop recording
Director

Rebecca Manson Jones

Digital Artists

Genetic Moo

Performers

Leslie Davidoff, Lesley Ewen, Mia Foo, Ellie Mason, David Munns, Tamara Stein, Esther Hopkins, Tom Edward Kane

Writers

Aisling Gallagher, Alice Gallo, Tim Heath, Astrid Hilne and Amy Ann Kemp, Tom Edward Kane, Ellie Mason, Tamara Stein and Esther Hopkins, Rebecca Manson Jones, Christine Thompson, Emily Ling Williams

BSL interpreter

Russell Aldersson

Associate Director

Fauve Alice