Blog
Artistic Director Handover speeches
Arti Prashar & Rebecca Manson Jones
28 October 2019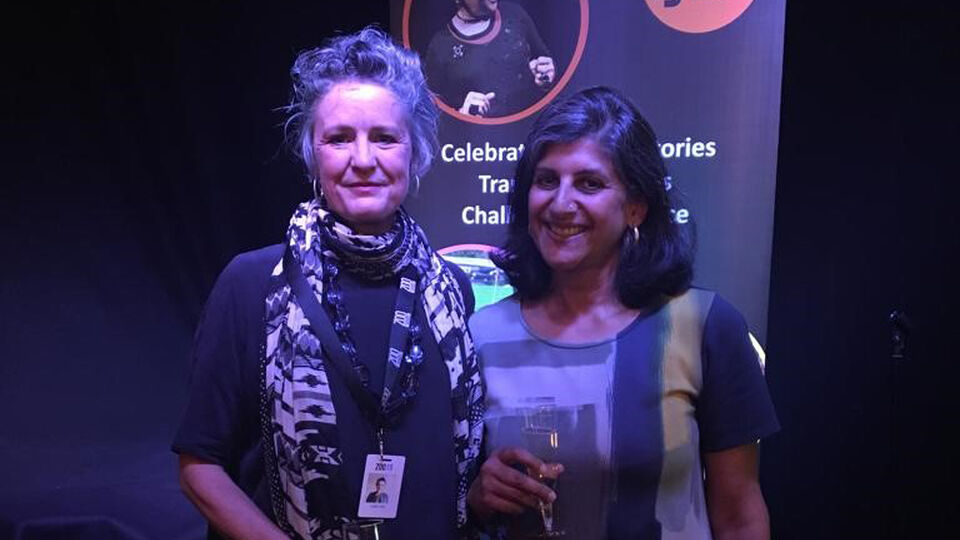 This August Arti Prashar stepped down as Artistic Director/CEO after 15 years at the helm. Having joined us as Associate Director in 2000, Arti's vision and dedication has ensured Spare Tyre has remained at the cutting edge of participatory theatre throughout her time here. 
We are delighted to welcome Rebecca Manson Jones as our new Artistic Director/Joint CEO, who comes to Spare Tyre having led and founded the award-winning company 'Just Jones &'. Rebecca is passionate about playful and provocative theatre. She brings her expertise in collaborative and inclusive participatory theatre into this next exciting chapter of Spare Tyre. 
For those of you who missed our Artistic Director handover event at Edinburgh Fringe this year, during our showcase of Nights at the Circus, you can read both Arti and Rebeccas speeches below.
Arti Prashar 
It's been my pleasure and joy to be lucky enough to lead such an amazing company like ST with its powerful 40-year history. I hope–if you haven't already–you will take a look at our ST40 project on our website - it's a great resource for the arts, for socio-politics, and emerging artists ...    
I've spent my career with artists and creative people–from all walks of life–who rarely get opportunities like seeing their stories on a stage. I defend their right to produce the art they want to produce. We work in a very subjective field and not everyone has to like what is produced, but audiences should feel free to question our intention. For me it's the most critical part of a complex jigsaw–ask what were you trying to explore or communicate? Because sometimes theatre and arts needs to challenge, needs to take risks, needs to be not understood.  
 I am very proud to have enabled wonderful unforgettable memories for artists, it's not just about 4/5 star reviews. Having this experience is what we mean when we say great art for all, that we are inclusive.  
 I'm very excited to see where Spare Tyre goes next and it is my pleasure to welcome the brilliant Rebecca Manson Jones–Spare Tyre's next Artistic Director and joint CEO!  
Rebecca Manson Jones 
I've always loved touring companies like Spare Tyre. Without them I would not have seen anything new or devised. I could not have imagined a life in theatre, would not have found my route in.  
We all know it here, but it's worth saying anyway: There's something very particular about stepping into a company like Spare Tyre. For me it's 3 things: there's the trust, the gift and the challenge. 
I thank all of you; artists, associates, Spare Tyre team, Arti and the Trustees for the last 40 years and for entrusting me to take our work forward. That sense of trust is hugely energising. 
Then there's the challenge: fortunately I enjoy doing things I haven't done before, things I'm not entirely sure how to do. And co-creation is my happy artistic place.  
Spare Tyre was created as a challenge to the status quo and when I was asked in interview "Why Spare Tyre" my answer was and is: "Because all of the reasons fuelling the need for Spare Tyre 40 years ago are still with us." And some new ones besides. Even some of the rights and access we might have thought a given are under threat again.  
For me, the gift of Spare Tyre is all the people here and all the people I've yet to meet, and the very fact that we will make this collaborative radical theatre a joint endeavour.  
There's a tremendous wealth of knowledge, talent and commitment in our participants, associates, the team, the volunteers and the trustees, and my predecessors Clair and Arti.  
Soon we will be joined by John Holmes as our Executive Director who is an optimist like me.  
One final thought: The Spare Tyre is the one most people ignore until it's suddenly needed on a cold, dark night. You hope it's there and in working order. Well, UK, you're in luck. We're here and we're ready to carry you through this emergency in to the future.  
Where do you want to go?