Blog
Statues, commemoration & the importance of taking up space on International Women's Day 2021
Rebecca Manson Jones
08 March 2021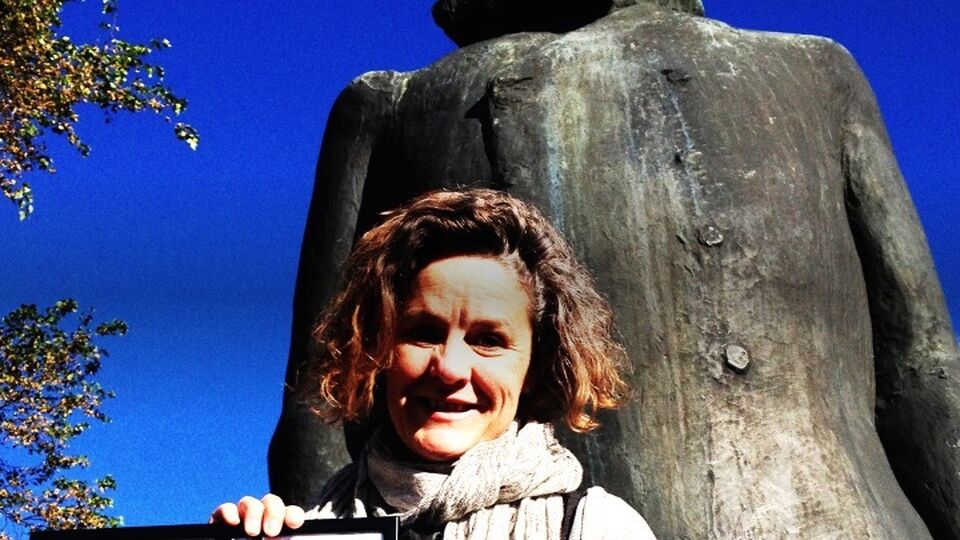 "Women have always been social distancing- evaluating if this space is safe, if we need to move away and give space to men to keep ourselves safe in the park".

Spare Tyre artist in conversation 2020
"Shakespeare wrote King Lear during the Plague" – Twitter 2020

"But he didn't do the washing, the cleaning, teach and feed the kids and put dinner on the table" – my response
Discover how to take part in Statues for the (Un)forgotten.
I first started to pay attention as an adult to statues when I lived in East Berlin in the early 1990s. Statues were being removed, stations and roads renamed. I learn a place by walking because when I was 19, I got off a bus in Istanbul and in 5 minutes, realised that I'd never be able to sit down in a foreign city as a young woman and be left alone. So, I had been very careful not to linger or be too visible in public spaces in cities. I didn't have the luxury of sitting anywhere or standing still in contemplation.
Previously I had never been a huge fan of statues -  repelled by these oversized representations of warriors in weird togas and grand wigs. As a child, I was never sure what I was supposed to get from them – I wasn't supposed to get anything – I was a girl, they weren't talking to me.  I was never sure what to make of Britannia…. one of the few female images I grew up with, and I spent too many hours gazing at figurines of "the Virgin" Mary endlessly perplexed about who she was to me, the only non-catholic at a convent school.
Not able to think myself into their worlds, like I could with characters in books, I ignored these cold uncompromising figures. And I didn't engage with their meanings. And like many women, I didn't imagine myself into their realities. Representation matters.
One day, on one of my ramblings in East Berlin, I came upon a protest led by a small group of silver-haired, redshirted women (probably the age I am now) about the removal of one of the last Lenins.  I bought a postcard, and a postcard of Che Guevara, listened to their stories of outrage and private griefs in this world historical act, and moved on. I was conflicted and a bit useless to them, although a resident and taxpayer. But I was a witness. And I have never forgotten. And I have since become very interested in who they were and how they should perhaps be commemorated. Women who had worked for an ideal all their lives. I don't know what that had meant in terms of sacrifice, compromise, whether they had been amongst the army of Inoffizielle Mitarbeiter who provided the network of information on which the GDR depended. What I saw and heard where uncelebrated women losing an icon.  It was one of those moments that happened a lot in those 9 months in post-unification Berlin, that opened up a parallel reality to me, a different truth to the accepted geo-politics, and it stayed with me.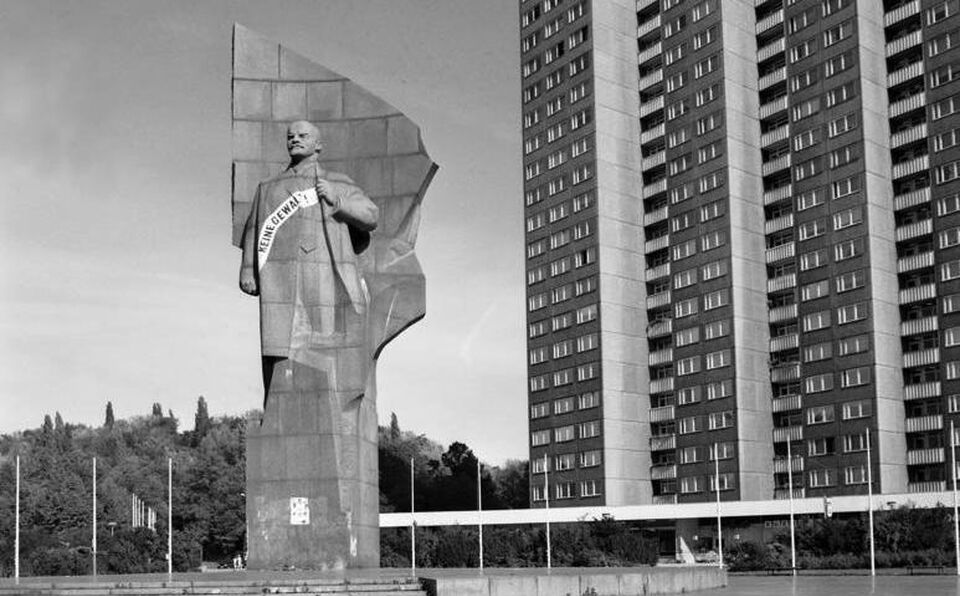 I started to think again about public space and who it belongs to, why that matters, who belongs and who feels safe in public. I realised that my personal safety and the politics of who designs spaces are linked. Who decides what public space looks and feels like? Who is it designed for? What is it designed to make people feel about themselves and their place? And I realised that Berlin with its socialist credentials, and its assurance to me that there was no sex discrimination (they were wrong about that) was–to me–one of the safest places I had ever lived. And there were representations (albeit propagandistic ones) of women all around.
Here I could slow down, take up space. I've been asserting my right to take up space ever since. It was a city that had told itself many histories in one short century and was in the process of creating another iteration. Everything that I understand about art, politics and their overlaps began for me in that year.
Back in the UK, I have been pretty ambivalent about the campaigns to create more statues of women in public places. I couldn't get excited about spending time, money and creativity on making public memorials that depicted women in corsets and crinolines, the trappings that were designed to slow women down, keep them quiet and demure….. Of the few depictions we have, too many of them are seated. And they are often life-size–dwarfed by the overscale statues of male counterparts as if afraid, or their commissioners are afraid, to take up equal space. (Maybe it's also because they don't think size matters and probably they are right – their deeds not their scale is what should impress….) These are women who "stood" and "stand" for something and who impact the world as powerfully as any second-rate city "father"! But, I did shed a tear about seeing Millicent Fawcett in Parliament Square and Victoria Wood in Bury.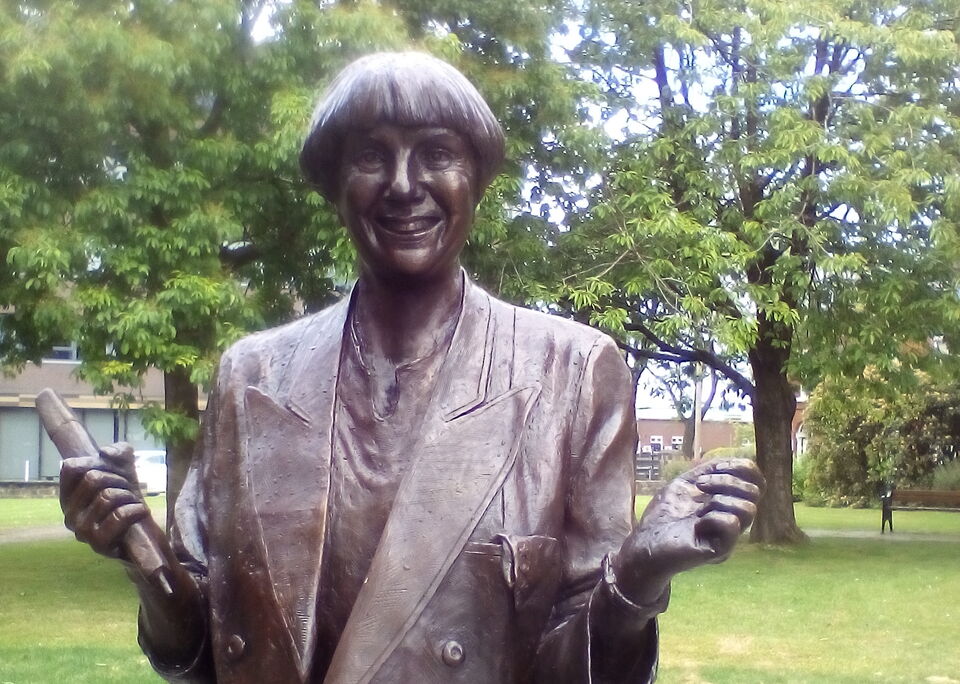 In this last year, things have happened which now make me think we need to retell our collective story of who we are, and what matters–past, present and future – with whatever means we have. On our stages, in our curricular, exhibitions and in public art.
The debate about removing of certain statues or re-contextualising them is important  but, as in all things to do with challenge in this country, it will take too long. Our young girls (and our young boys) need to see change and representation now.
Who is seen and celebrated in our public spaces goes to the core of who and what we value in life. It also reflects and insists on who has the right to be seen in public going about their daily–and nightly–lives, as well as claiming public attention for their passions and their rights in public discussions.
During Lockdown#1 there were numerous mentions of how Shakespeare wrote King Lear during the Plague. I remember tweeting that he could do that because he didn't do the washing, the cleaning, teach and feed the kids and put dinner on the table.  And I although I love much of his writing, these days I am left wondering what stories the women, if they'd been able to, would have passed to us from those times?
And as we approach the first anniversary of Lockdown#1 and calls bubble up for an act of memory, it seems to me that if left to the civic leaders and governments, there's a real danger that the way we remember 2020 will not be as representative as it could be. So, the creative community has a role in imagining the forms and subjects of commemoration.
A public environment  - whether physical or cultural –only becomes safe for all and enjoyed by all when it is built with all perspectives in mind and when it is populated in every sense by everyone. Equality of access in principle is not the same as equity in fact.
So, let's not wait for statues to be removed, Let's not allow the collective memory of the pandemic to be co-opted by the official historians.
Let's take up space,  digital and physical. And let's bring on the women and other under-represented people. Let's see and hear people who experience racism, let's see and hear Deaf/disabled and NeuroDivergent people, LGBTQIA people – all the "other" people who are hidden in plain sight and remain uncelebrated, and the shielders who make change happen from their homes.
Let us be seen for our actions and not our looks. And not just acts that mimic the long stale, pale, male tale of heroism. It is also time to revisit what we consider to be worth acclaim. During March launching on International Women's Day and with the #ChooseToChallenge call resonating in our thoughts, Spare Tyre invites you to create your own memorial for someone who might otherwise be forgotten. (They don't have to be a woman or have done anything that the public would even notice but their challenge for change has to be clear). They don't have to have died, or have any connection to the pandemic.  They could even be fictional!
We are all still in lockdown and Spare Tyre doesn't have our own town square or stage, but we do have all the town squares that you know and are near, by virtue of the internet. We can go on a virtual tour to discover the unforgotten people who quietly and less quietly move our country forward.
If you would like to help create this digital tour of Statues of the Unforgotten, find out more.