Blog
Welcome to our new associate artists: Ellie, David and Lisa
Rebecca Manson Jones, Artistic Director
16 January 2020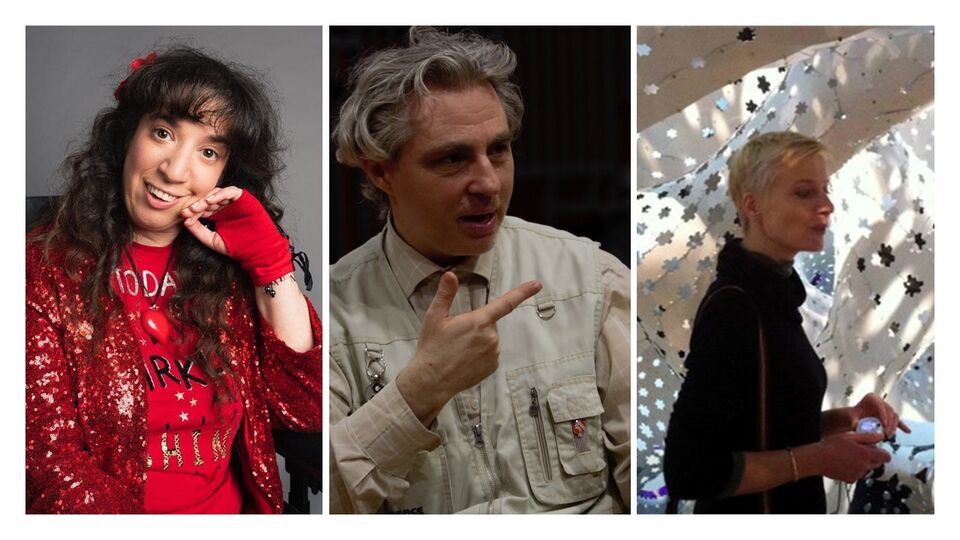 Happy New Year! Happy New Decade… 
Already it seems we are an age away from the noughties and the teens.   
As I get used to writing and typing '2020' enjoying the visual and verbal balance of the numbers, I'm getting started on our 2020 vision for Spare Tyre.  
First up: I'm delighted to welcome three new associate artists for the company: Ellie Mason, David Munns and Lisa Muten.  
The sharp-eyed among you will notice that that these three have featured in Spare Tyre's work for a number of years. Performers Ellie and David have participated and performed in Spare Tyre productions and projects most recently Nights at the Circus at the Edinburgh Fringe. Lisa is one of our brilliant freelance visual artists facilitating our Take Part projects especially the Together Project at the Haynes Dementia Hub. I'm very excited about continuing to work with them all as we develop projects for the 2020s. 
Spare Tyre's Associate Artist cohort was formed as a group in 2018 to explore and strengthen the over-lapping talents, experiences and preoccupations of the artists that Spare Tyre is both inspired by and that the company supports.  We want the group to reflect all aspects of our work which is why we're thrilled to acknowledge the journey that Ellie and David have made from participants to artists. 
All three will join me and the other associates for a working weekend that we call Thinking Space and is actually about "doing and making" together in a series of workshops that create connections, build skills and sometimes form the seed of a project. More about what we find and where it might lead in March.  
Ellie Mason
Ellie is a London based actor/performer. She has a physical disability, uses a wheelchair and has a mild learning disability. Ellie has performed in Spare Tyre productions for over 15 years including Pieces of Ourselves, Feeble Minds, Ridiculous Recipes, Tempest and most recently, Nights at The Circus which premiered at New Diorama Theatre, toured to six London venues and enjoyed a two week run at Zoo Venues, Edinburgh Fringe 2019. In 2017, Ellie won the Sexual Freedom Award for her role in Nights at the Circus, a provocative and daring performance exploring sex, desire and disability.  
Ellie regularly appears on TV as a background artist and featured in BBC drama Silent Witness alongside Liz Carr, who is also a wheelchair user. Ellie has modelled for Disability Now magazine and is passionate about promoting positive representation of disabled people in theatre and the media, aiming to bring about change in these industries. Ellie sings in the Going Choral disability choir based in Stratford, London. 
David Munns
Hi, David Munns here.
Writer, Actor and Illusionologist, also occasionally designer too. On the writing side it is mostly scripts, I have written quite a bit of comedy but there has been some drama too. I have written short dramas like Another day and Morgan's Lake for radio and co-wrote Edinburgh Fringe show Nights at the Circus (in which I played not one but two different roles).  I have a few projects in the works right now.  
As an actor I have appeared in many Spare Tyre productions including Dark Inc, Ridiculous Recipes, Tempest, Feeble Minds both reinterpretations of Shakespeare) and SAFE. I've been interested in the art of illusion since I first saw David Nixon on TV at the tender age of six and have been in love with magic ever since. My tastes in magic have changed over the years and recently I have become interested in magic of the mind. 
Lisa Muten
Lisa is a visual artist who has been working as an artist facilitator and tutor since 2008. She has worked with Spare Tyre on the Just Westminster and Blue Skies projects and was co-lead on the Together project at the Haynes Dementia Hub. 
Lisa works with Action Space in their Central London Studio Project where she supports adult artists with Learning Disabilities through their creative processes and professional practice.  She also works on a partnership project for Action Space at a SEND school in East London, leading weekly art sessions with students and supporting them through their arts awards.
In between, Lisa continues to develop her own art practice, predominantly through painting, drawing and installation.